There are nearly 740 million people on LinkedIn. It might not seem that impressive when compared to Instagram and its 1 billion users. However, with a specific business focus, it's an audience worth noticing if you're looking to target prospects for your business. 33% of B2B decision makers use LinkedIn to research purchases, making it the best platform to target the prospects for your business.
In this article we will walk you through the process of using LinkedIn for lead generation and share our case on personalized communication. And it promises some great numbers: up to 500% growth without dozens of tools or advertisement.
Why use LinkedIn for lead generation
Hubspot found that LinkedIn works great for discovering leads: it generated the highest visitor-to-lead conversion rate at 2.74%, almost 3 times higher (277%) than both Twitter (69%) and Facebook (77%).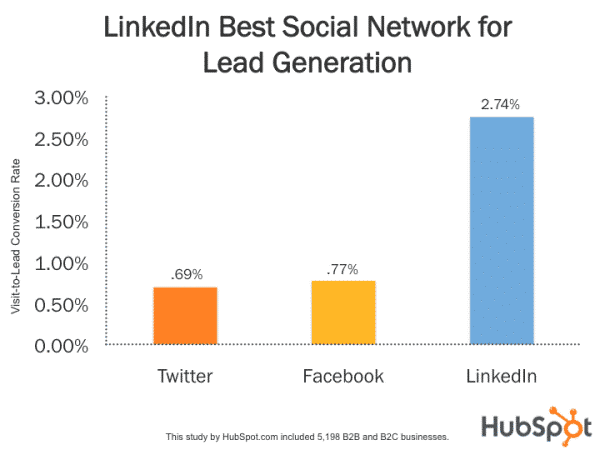 And if you're trying to assess whether it works for you, more than 80% of B2B leads sources through social media come from LinkedIn.
Plus, it allows you to target incredibly specific groups.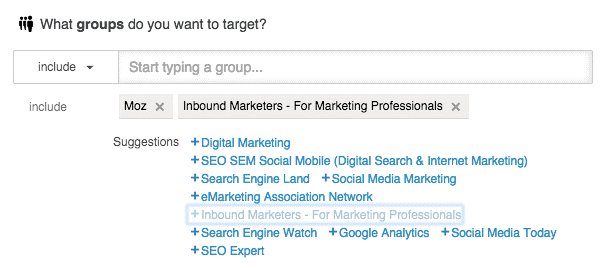 Before you start generating leads on Linkedin
LinkedIn can generate leads if done right. Here are some tips that will raise your game.
Optimize Your LinkedIn Profile
You will be often connecting to people you don't know, so your profile matters a lot.
Add a quality headshot and a background picture that reflects on the area you work in. Choose correct image sizes, this way your logo and solution won't be cut off.
Edit your title to appeal to people you're going to contact. People will look through your profile trying to ascertain you're legitimate.
Fill out your profile, add your job experience. Consider adding a line that you would like to connect to new people.
Integrate keywords into your profile so that people can find you. Summarize your experience so that people know what problems you can help them with.
Create a vanity URL for your profile. This way your profile link would be more recognizable and easier to remember.
Learn more about vanity URLs here.
Create Useful Content
Attract potential leads to your company's profile with LinkedIn's publishing platform. You can publish content natively, or you can republish posts from your blog. This way you can showcase your expertise. It's also the way to shorten the sales cycle. According to LinkedIn the companies that post weekly, get 2 times higher engagement rate.
When you create useful content, your readers will rely on you for solving the problem. So it'll be easier to convert them into leads.
Here are some tips to get you started:
Create a content plan.
Tell stories to stand out and build trust.
Create domain-specific and problem-solving content.
Make your content actionable with practical headlines that tell the reader how they can put your ideas to use to get some tangible results.
Add a healthy dose of CTAs.
Cross-promote LinkedIn articles on other platforms.
Monitor likes, shares, and clicks to find out what content type is working.
Ask people to leave a comment, so you can send them links. LinkedIn might cut the reach of posts with links. Here's an experiment, where links in comments got 2.7 times more reach.
Update regularly.
Join Groups
Do a search with a 'groups' filter, select groups relevant to your industry and consider who your ideal prospect is. LinkedIn groups allow you to contact prospects that aren't in your connections.
Here are some things to consider:
group rules – check if group rules allow promotional content
group size – for a large enough prospect pool
level of activity – group members interact with content, start conversations, etc.
Conduct group search, using keywords.

You can also click on Work and browse groups in a new menu. Then click on discover.

When your request is accepted, start with analyzing the topics that get more engagements. Join in discussions and provide value, for example, create content based on a question that is often raised in the group.
Generally, LinkedIn groups don't allow excessive promotion or hard selling and spamming the group with multiple posts that annoy other group members.
You can also create a group, but it'll take time and effort. This way, when you post your content, it'll be perceived as less promotional and more of a way to invite discussion.
How to build your lead list
With LinkedIn, it's easy to develop a list of potential leads.
Segment your Leads
LinkedIn's basic search is a great tool for general searches on the platform. Click where it says, "all filters."
On many profiles you come across, there will be a 1st, 2nd, or 3rd symbol next to the person's name. This indicates how directly you are connected with them. This makes it much easier when finding the right people to connect with.
Here's what the degrees of connection mean:
1st degree: people who you are directly connected with already. You may have accepted their invitation or sent one they've accepted. You can contact these people by sending a message on LinkedIn.
2nd degree: people directly connected to your 1st-degree connections. You can send them an invitation by clicking the Connect button on their profile page or contact them through an InMail.
3rd degree: people who are connected to your own 2nd-degree connections. You can send them an invitation by clicking Connect if their full first and last names are displayed. If you can see only the first letter of their last name, contact them through an InMail.
Some people don't have a number next to their name. These are people who aren't in your network at all, and they can only be reached with an InMail. However, there is a way around this. If you're in the same group as someone, but they're not in your network, you can still message them directly and then connect.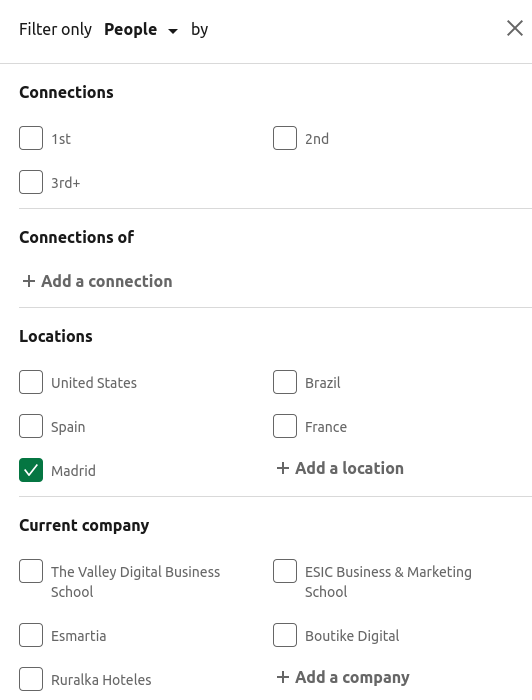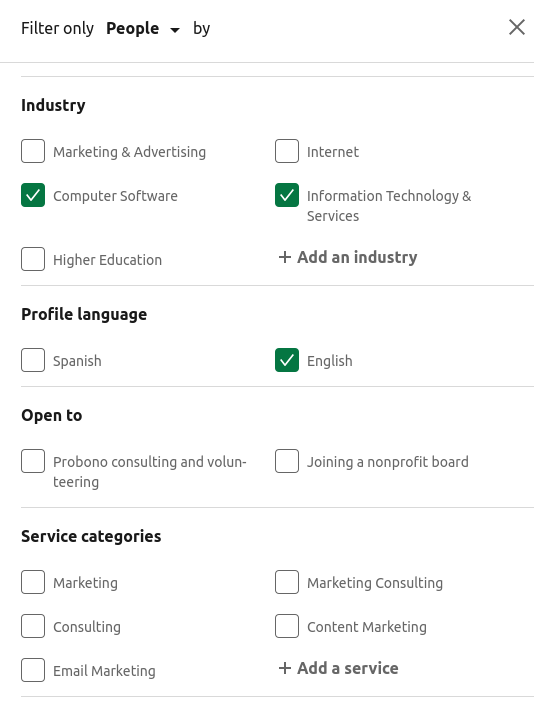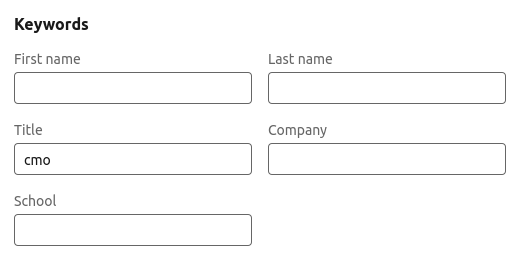 Say, you're searching for a CMO (Chief Marketing Officer) in Madrid, this is a place to start.
In the search bar, type the words around the position, such as 'marketing', 'agency'.
In the title role enter CMO.
In location type in Madrid.
Specify the industry you're interested in.
Just like that, you'll get a list of potential or current connections that are CMOs in Madrid.
These categories can get you started, but they don't begin to scratch the surface of LinkedIn's advanced search capabilities. There are two premium plans on LinkedIn: Sales Navigator and LinkedIn Recruiter. Sales Navigator is the best premium plan for anyone trying to generate sales leads or partnerships.
Use LinkedIn Sales Navigator
Sales Navigator is the premium version of LinkedIn. It costs $64.99/month for an annual plan, but there's also a free trial. Within the regular version, LinkedIn limits your free people search, if you're using LinkedIn for recruiting or generating leads. There are also impressions and invite limitations. The logic behind that is that LinkedIn tries to make sure their ecosystem is concentrated on mutually beneficial B2B communication.
Sales Navigator can help you with lead generation in multiple ways:
InMail is LinkedIn's version of email built on their channel. It allows you to contact anyone on LinkedIn without a connection or their contact information. However, users can opt out, so sometimes you wouldn't see an option to InMail a person. It goes beyond sending messages: you'll know whether your message was accepted or declined as well as the percentage of InMails sent that were accepted by the recipient within 30 days.
In the basic version you will only be able to see one's name, title, and some basic information from the profile. With Sales Navigator you'll be able to see 3rd connections.
Once you search for leads, you'll be able to save your search and create dynamic lead lists. This way, working with cold outreach, you can prioritize whom to reach out to and personalize your messages by contacting leads that you share a connection with, leads that posted something on LinkedIn in the past 30 days or leads that already follow your company.
Sales Navigator provides you with more than 20 advanced search filters. You'll be able to search by specific departments, head counts, annual revenue.
If you look for the same CMO in Madrid, you'll get more choices. For example, you'll be able to segment 2nd and 3rd connections because you don't want to message your current network when you're looking for leads. When you choose industries, you'll see how many people have listed them in their profile. You can set company headcount and budget. You can also exclude certain categories.

Another way to refine your search is to use boolean search commands. They customize your queries, allowing you to include, combine, exclude, or remove specific words related to your search.
NOT – Adding "NOT" after a search term will exclude the term immediately following it from your search results. For example, "
OR
AND
Parenthesis ()
Quotation Marks ""
For example, this boolean would isolate prospects currently working as head marketing, specialized in software:
(SaaS OR Software) AND (Head of Marketing)
Use LinkedIn Analytics
In order to find LinkedIn's native analytics, navigate to your Company Page, and then click "Manage Page." Next, you'll be taken to the Company Page. There, you can upload new posts, get an overview of activity, or view more in-depth analytics. Click the Analytics tab, and choose what you want to focus on.
LinkedIn's native analytics for Company Pages is broken down into three different categories:
The visitors tab tells you how many people viewed your Company Page and its content within a set time frame. You can get data as far back as 12 months.
The updates section in LinkedIn analytics shows you the overall engagement trends and how specific posts are doing. You can view post performance in terms of impressions, unique impressions, clicks, likes, comments, shares, and overall engagement rate.
This section of LinkedIn's analytics provides overall information about your followers. You'll see the count, and trends with dates to check for causes. You'll also see demographic information for your followers, including job function, seniority, industry, company size, and geographic location.
In-depth analytics (on and off LinkedIn) is only available for Company Pages. If you want to learn about who is viewing your profile, you'll need to head over to the "Who Viewed Your Profile" section.
You can also see information about your posts' performance, but it's a manual review process, and you can only get the info on posts if ten or more unique viewers have viewed them. Head over to your profile drop-down menu, and select "Posts and Activity." Then click posts, and you'll be able to see general anonymous information on how many people interacted with your content.
How to Use LinkedIn for Sales Leads
Once you have your list of targets, you can begin your initial outreach. After you created a list of potential leads, send a connection request. Click the Connect button and write a short message on how you know them or why you'd like to connect. Connection messages are limited to 300 characters.
Remember to use advanced LinkedIn boolean searches. Your cold messages might have a higher reply rate if your search is specific. Plus, LinkedIn suggests people to connect with. LinkedIn's suggestions list will help you to expand your list. The recommendations are based on your profile, so the more LinkedIn know about you, the more accurate the suggestions will be.
How many requests to send
LinkedIn allows users to send up to 3000 invites. Each user is allotted 3000 for their account, and they are allowed to send out as many as they want per day. However, keep in mind that you will have to enter a CAPTCHA for each invite over 100 sent in a 24-hour period. They will typically grant members another 500 to 1000 invites per month, as long as the user has not been labeled a spammer by the community. It is important to note that if you use them all up again, you will have to wait until that month is up before being able to ask for more.
Of course, even if you can send all those invites, doesn't mean you actually should. A spammer is a LinkedIn user who receives too many declines from the invites they send out. So, you should be careful about sending those invites if you want to expand your network properly. We recommend to start sending invites with no more than 50 requests per day and as your connections grow, increase the number of requests to 150-200.
How to send messages
Instead of trying to sell your product right off the bat, offer help. Just like with any conversation, creating a connection first would be the best choice in the long term.
Personalization
You can personalize your message with the first name or job role. But, this information is on the surface, and people tend to respond more positively to specific comments and compliments. Read the person's post in a group or an article and mention something specific from them.
Clear purpose
People are generally weary if you start selling from the very beginning, so to maintain the balance, you can ask them about their latest blog post, or ask if they're interested in trying out your product if it's relevant to their profile.
Testing
Cold outreach campaigns provide you with a chance to experiment. Try different templates and follow-ups, learn what brings results. LinkedIn recommends updating CTA, subject line, pictures and content based on A/B testing.
Short subject line
You're establishing contact, so writing an essay is probably isn't the right option. According to Litmus, the right length is:
4-15 characters: at 15.2% open rate and 3.1% click rate.
28-39 characters: at 12.2% open rate and 4% click rate.
So fit whatever you're trying to say in the limit.
Common ground
Mentioning a mutual connection is a great way to establish contact. However, with cold outreach, you might not have any. Still, you can mention that you also are in the same LinkedIn or Facebook group or engaged with the same post.
Personalize to Shape Interest – a Real Case
Here's a case of how our client personalizes cold messages in LinkedIn.
The sales department of Gravitec, a company creating marketing automation solutions, sent out three types of messages to cold contacts on LinkedIn using Piar.io to customize link previews:
A standard message with a link
A message with a static personalized preview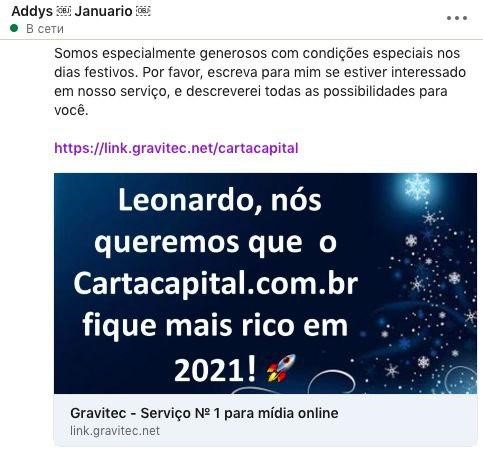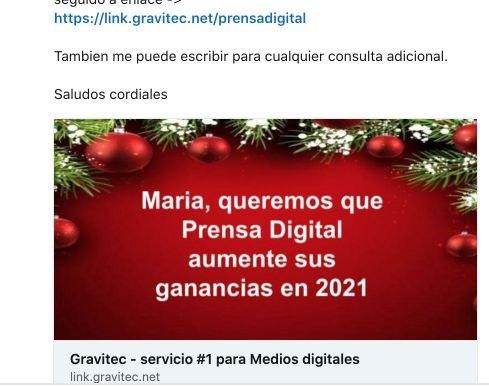 A message with a dynamic personalized preview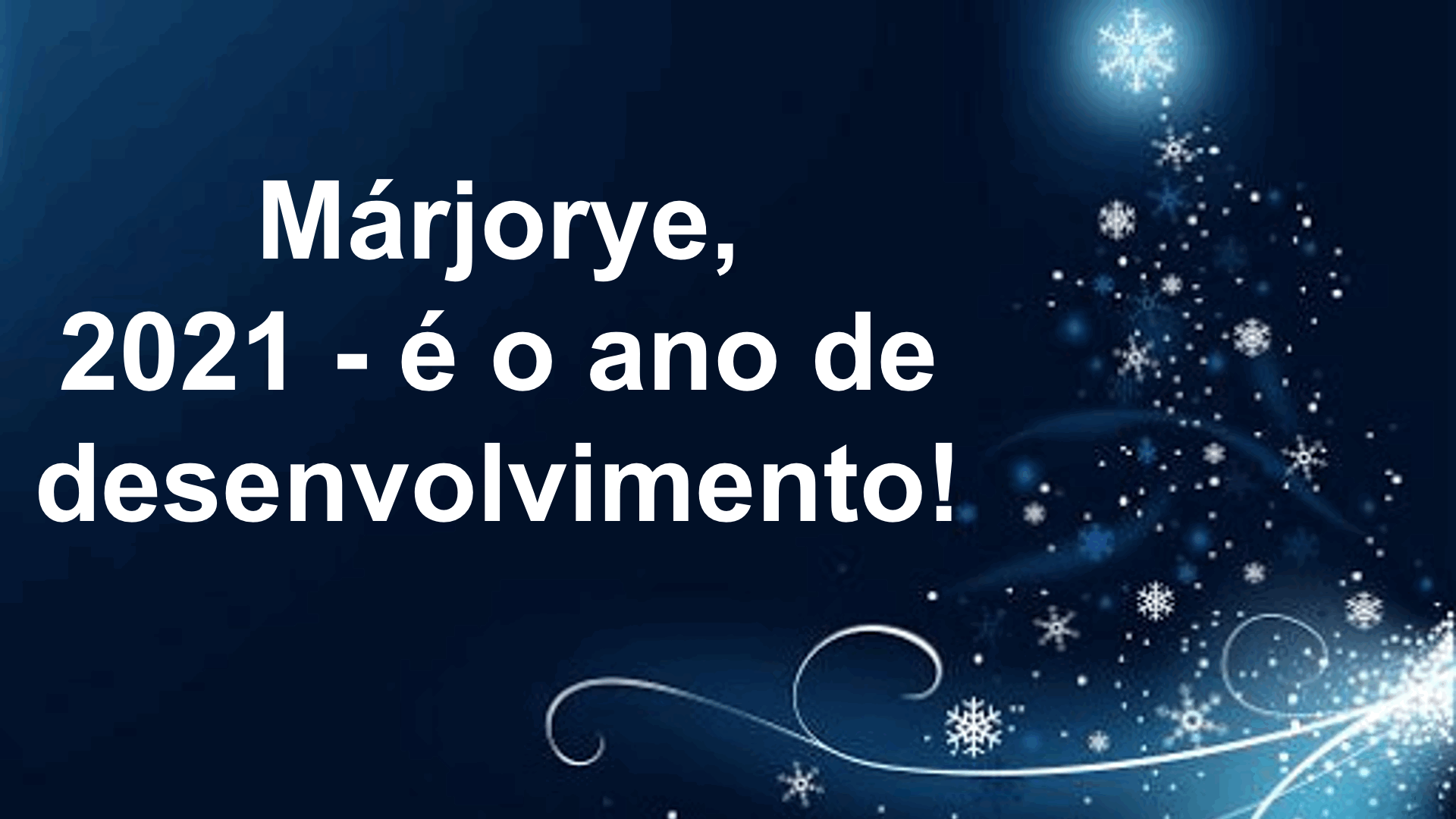 Altogether they sent 300 messages, 100 per each category. Here are the results:
| | |
| --- | --- |
| Message | CTR |
| Generic message | 18% |
| Personalized static message | 92% |
| Personalized gif | 97% |
LinkedIn Cold Messages – CTR (%)
The personalized static message earned an impressive 92% click-through rate. However, the message with a personalized GIF earned a 97% click-through rate. That's more than 500% growth!
Personalized images attracted contacts attention and made them click on links to get more information about the offer. In such a way, Piar.io tool helps fill the top of a sales funnel.
Summary
Here are the ways to get leads on LinkedIn:
Fill in your LinkedIn profile and make sure it has a clear message of what problems you're solving. Your picture and professional experience matter, people will use your profile to establish whether they should respond your message.
Search people to contact like a pro: use search criteria, advanced search and LinkedIn Sales Navigator. You can refine your search even in basic account; premium account has more than 20 search filters to help you target prospect leads.
Connect to people. Don't start your communication with selling.
Make people want to contact you by making great content.
Personalize your messages to raise click-through rate.