Roughly 40 million people use LinkedIn to search for a job each week. So, if you want to recruit employees, LinkedIn is the place to start. According to a study, 122 million people got an interview via LinkedIn, with 35.5 million hired by a person they talked to on the site. 
In this article, we show best practices on how to hire on LinkedIn. If you're hiring via LinkedIn for the first time, start by looking through free solutions. Experienced recruiters will find pro tools to improve their current hiring strategy.
What do you need to start recruiting on LinkedIn?
Before you start using LinkedIn for recruiting, make sure that it fits your industry. The most popular industry on LinkedIn is Information Technology & Services that comprise roughly 4.8% of all profiles in the network. However, if your company belongs to a different niche, you'll still be able to hire people — there are members of 147 more industries to choose from.
Here is the complete list of what you might need for hiring.
Personal profile 
Company page
InMail 
LinkedIn Recruiter/LinkedIn Recruiter Lite
LinkedIn Jobs
Recruitment marketing products
Work with Us Ads
Job Posts/Job Slots
Some of these tools are free. Some are paid. If you hire a few times a year, free options will be plenty. To recruit like a pro, you'll need to get familiar with some of LinkedIn's paid pro tools for recruiters. We'll review options from the most straightforward to more proficient.
But first, let's see how to post a free job.
Use your Free Plan to Find Employees
The free plan has limited options for posting jobs, but it can be enough if you're up to networking, especially if you don't hire more than 1-2 people a year.
How to post a job on LinkedIn
You can post a job on LinkedIn for free to share it only with your network. To reach LinkedIn users who are not your followers, you have to promote your job postings using paid solutions. In any case, you need to create your personal profile and a company page first.
Create your profile and a company page
If you don't have a profile, sign up on a LinkedIn home page. Enter your email address and password, or join using your Google account.
LinkedIn will prompt you to add your photo, skills, experience, education, interests, and other information that present you as a professional. Optimize your profile by following LinkedIn requirements and be active in the network to increase your SSI score.
To create a company page: 
Click the Work tab on the top right of your page.
Click Create a Company Page in the drop-down menu.

Choose what kind of page you want to create. There are options for small businesses, medium/large businesses, educational institutions, or you can create a showcase page associated with an already existing page.

Add your company details such as name, URL, website, industry, and size. 

Upload a company logo and add a tagline to describe what your company does.

Click the Create page button.
After the page is created, you can use it to showcase information about your company and create a first impression about your company. To make the most out of your company page:
add the header image
fill the About section to present your company in more detail
use relevant keywords to increase your page visibility
publish employee testimonials for social proof
frequently add posts with links to curated content, industry news, and blog articles to encourage people to follow your page
describe your products, mission, and values.
Once you're done with this step, you're ready to post a job on LinkedIn.
Posting a job
Posting a job for free takes just five steps.
Go to the Work tab and select Post a free job.

Enter the job title and click Get started for free.

Job Details. Add a job description with responsibilities and requirements. Add up to 10 skill keywords to reach as many relevant candidates as possible. Then, click Continue.

Applicant Options. Choose how you want people to apply on your job offer: by email or your website page. If you choose the email option, enter your email address and add screening questions to check the candidate's qualification. Additionally, LinkedIn suggests the text for an auto-response for those who don't meet your requirements. If you prefer receiving your applicants by the external web page you only need to enter your website URL.

When everything is set up, click Post job for free. 

Your post will be published on your company page. There are ways to share the job even if you don't plan to use paid LinkedIn options.
How to share a job on LinkedIn for free
Once you've posted the job, there are ways to gain visibility:
Share the job on your personal profile. You can simply post an update with the news about a job opening. Your connections will be able to see and share the update.
Post your job in LinkedIn groups. Many groups have Jobs sections you can promote your job.
Make some new connections with the passive candidates. You can search for professionals in the area you're interested in using keywords and connect with them. For example, look for a "software engineer" in your location, see how many connections you can get. Concentrate on your second and third connections because you already know your first ones. Add a personal message with the connection request and ask if they'd be interested in a job.
Add #Hiring banner to your profile. LinkedIn offers a purple banner to your picture to help with the pandemic-induced recruitment crisis that shows you're actively hiring. To add the banner, go to your profile. Under your name, photo and title, find an "Open to" button. You'll also be able to add a post with the #Hiring hashtag. You'll need to choose your company and either select one of the jobs already posted by your company or create a new specific job posting.

Modify your profile title. LinkedIn lets you edit your profile title without any restrictions, so you can simply add the information that you're hiring to your title.
Ask your employees to share the post to leverage their networks. An average user has 400 connections, so even if one employee shares your posting, this update will get to the newsfeeds of all their connections. If any of their connections like or comments on this update, it will be shared to their connections in turn. 
Next, see what pro recruiting tools you need to get proactive and find your next employee on LinkedIn.
Post Jobs
Paid job post
After creating a free job post, you can promote it to a wider audience with the pay-per-click option. It means that you will be charged based on how many candidates click your listing. You need to set up an average budget for your job offer and run a campaign until your budget is reached or you find the right candidate. The cost per click depends on your industry, job title, job location, and additional factors such as the number of similar job offers on the marketplace. Note that you're billed monthly with LinkedIn's pay-per-click model, but you'll be able to close the job whenever you're done with the search.
When you create a paid job posting, LinkedIn:
makes your job visible to anyone on LinkedIn;
uses the "Jobs you may be interested in" feature to display the ad to people whose skills and location match your request;
creates a list of 50 members you can view who fit your role;
provides you with five free InMail messages to contact members outside your network.
LinkedIn Jobs
LinkedIn Jobs is a part of LinkedIn Talent Solutions that help you target your jobs to the right people. You can post individual jobs, set candidate criteria, and get access to the basic applicant management tool. The listings are free to post; however, the price depends on the type of job posting and industry. LinkedIn matches your criteria with a person's skills, experience, and goals when you post a job. This personalized targeting puts those job postings in front of relevant matches to make applying to your prospective employees easier. Your job is promoted as emails across LinkedIn and mobile push notifications.
LinkedIn Jobs also comes with some built-in automation features, like:
Screening questions. You can choose to be notified only if the candidates that match your requirements answer, for example, with at least three years of experience.
Automated rejections.
Recommended Matches takes the qualifications you've already provided in your job post and instantly provides relevant candidates that match those.
Dynamic ads and sponsored updates
Dynamic ads on LinkedIn allow you to show your banner in different places. There are three options to choose from – Job Ads, Spotlight Ads, Follower Ads. Only Job Ads appear on mobile devices.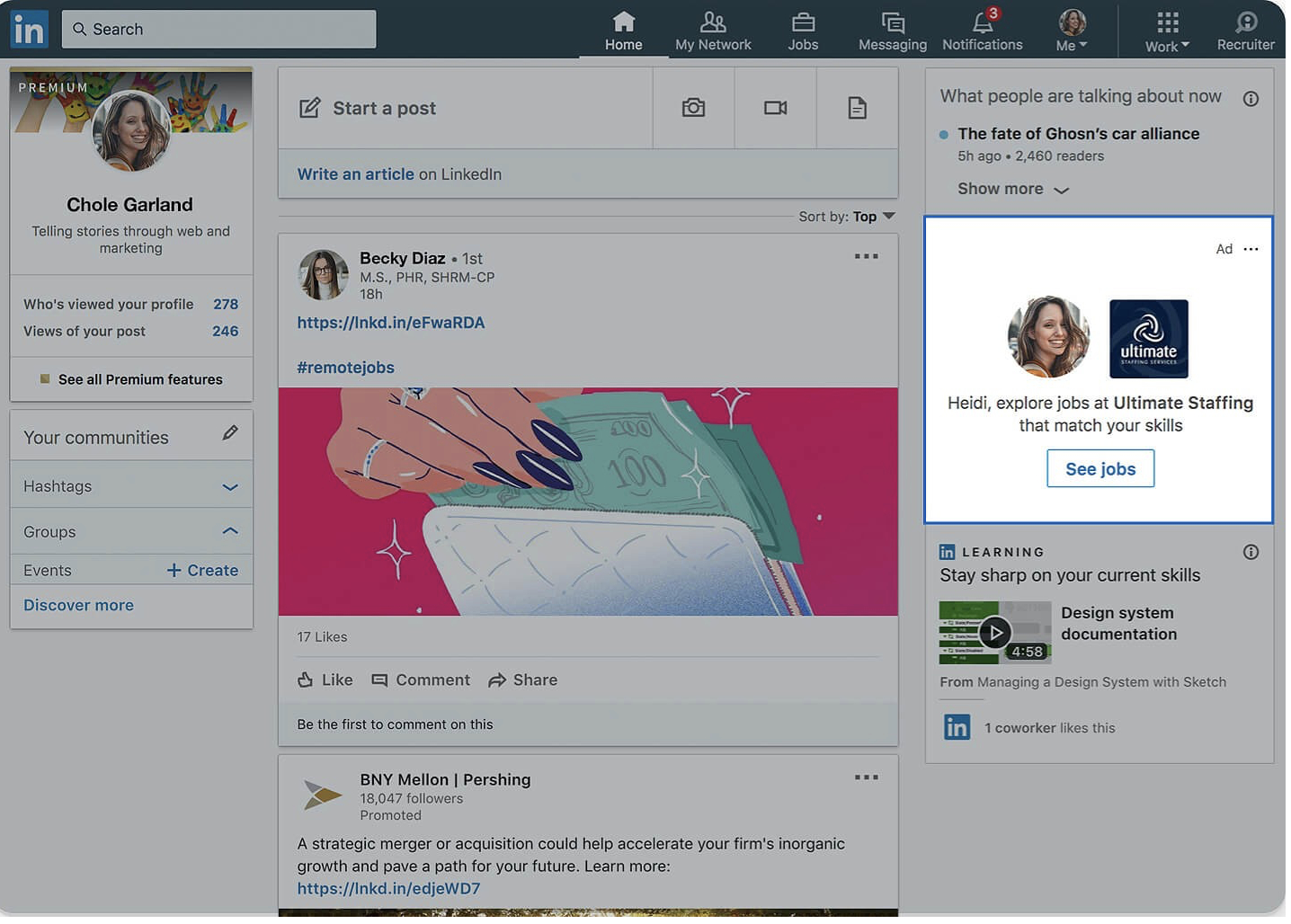 Sponsored Updates are ads that can be featured as video, an image, or text in the LinkedIn feed with a link to any website.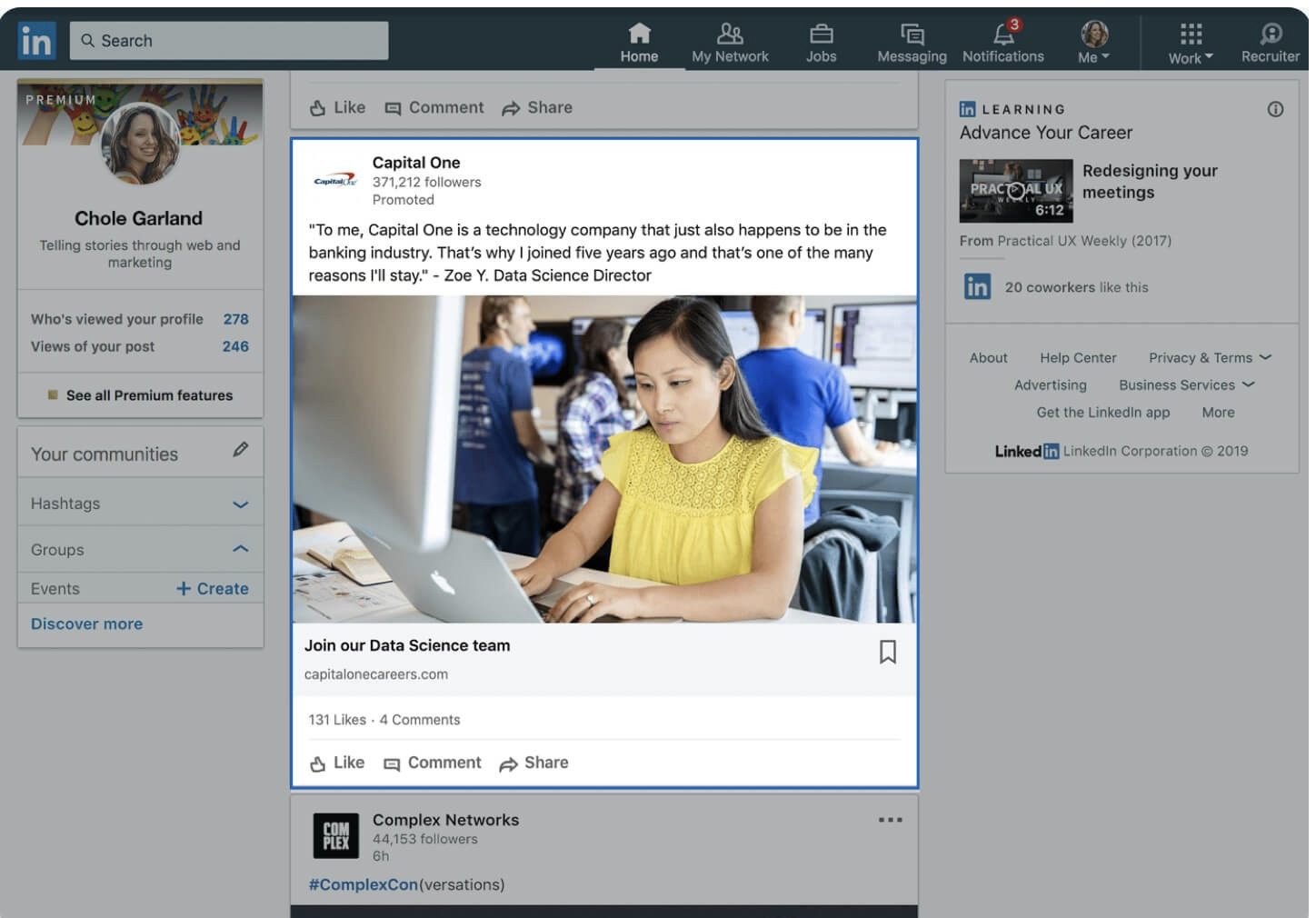 You can target these ads to people you're directly connected to (1-st degree connections), people who visited your website, contacts in your CRM, and candidates look-alikes. Or, ads can be targeted by job title, skills, school, seniority, and years of experience.
Job Slots
Job Slots make sense if you're hiring more than a couple of employees a year. They are reserved job posts you can switch every month. So, with one job slot, you can advertise up to 12 positions a year. They are available on LinkedIn Recruiter and can be allocated between all users that share your LinkedIn Recruiter contract. The number of jobs you can post is based on the number of job slots your company has purchased. You can see the number of slots under Jib Activity on your Recruiter homepage.
Source candidates
LinkedIn Recruiter and LinkedIn Recruiter Lite
Another way to promote your jobs is to consider LinkedIn Recruiter. It is an all-in-one platform designed to search, engage, and collaborate with LinkedIn users. Recruiter Lite is the same platform with some limitations that is purposed for small and medium businesses. The main differences between them are the number of options for search and the number of InMail messages. Learn more about differences.
To find candidates using LinkedIn Recruiter, you need to create a project with a role you're hiring for, then using advanced search, get insights of which candidates best suits your role and add them to your pipeline list. After you choose potential employees, send them direct messages using InMail and see statistics on how they respond. Also, you can share your pipeline with your hiring team or sales managers to collaborate on choosing the right candidate.
Recruitment marketing products
The recruitment marketing platform helps you promote your job posts, just like you promote your products. However, instead of marketing to the customers, it markets to candidates.
The main features of such platforms include:
Marketing and distributing your job listings
A CMS to edit and update your careers site
A CRM to serve as a candidate database
Social media sharing 
Chatbots, etc.
When choosing a recruitment marketing platform that is easy to use, fits your budget, and allows for scalability if your hiring needs grow. For example, Avature, Symphony Talent, or Yello offer a full scope of recruitment marketing platform features and leave space for growth.
InMail
InMail is a LinkedIn tool that enables you to connect with people who aren't on your contact list on LinkedIn. With InMail, the message goes directly to the email account that the recipient has on their LinkedIn profile. The LinkedIn Premium Business account gives you 15 InMails per month, whereas the Executive account gives you 30. 
Personalize the message you send to potential candidates. LinkedIn recommends using things you have in common, like a group you share or a common former employer.
Boost your company brand
Work with Us Ads
Word with Us offers personalized and targeted ads that appear on the right side of profiles candidates visiting to get them to apply to your open roles. You can use these ads to drive traffic either to your job post or to your Career Page. LinkedIn boasts 50x higher CTR than standard job ads.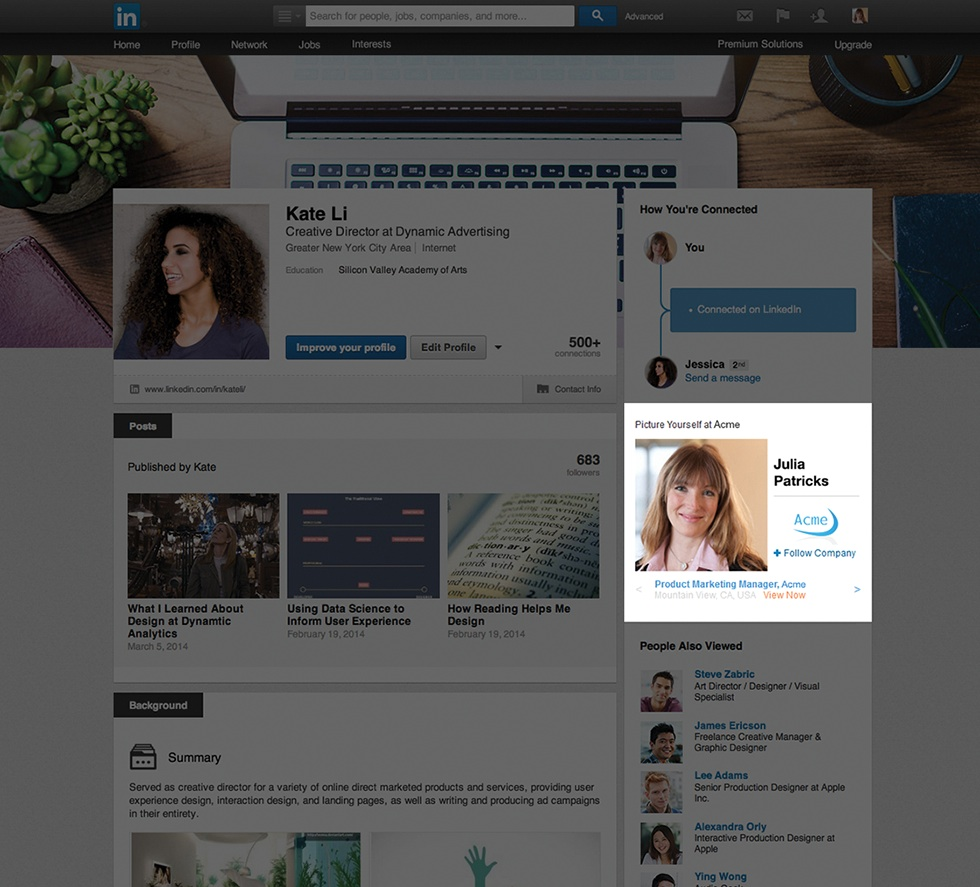 Career Pages
Create a targeted audience page to showcase not just your open positions but your company culture with images, videos, employee-created content. Use the Analytics tool to view page visitors, competitive insights, and high-performing posts. You can also create Insights so that candidates can assess whether they can be a good fit for your position.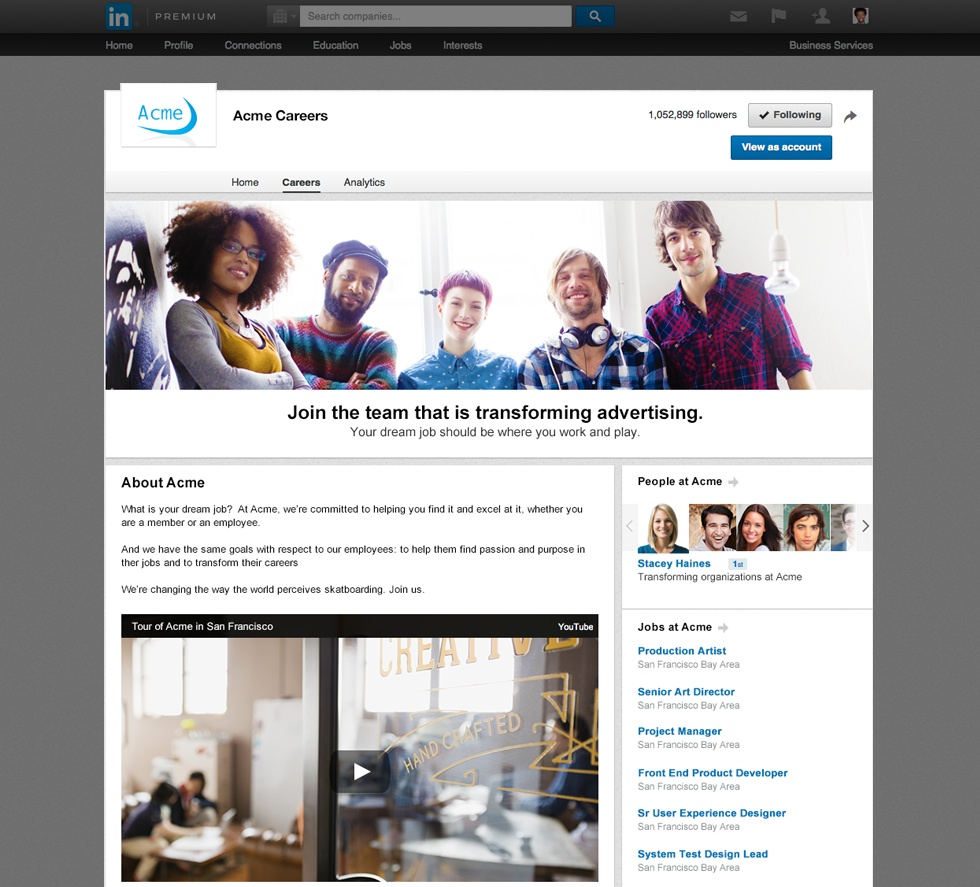 Summary
LinkedIn is a top resource for finding new employees. To make the most of it, you'll need a personal profile and a company page filled with information that can help your prospective candidates get to know your company.

You can create job posts and let people know you're hiring even on free plan. However, it will require more networking, like joining groups, asking your employees to share posts and provide testimonials, search for passive candidates based on the keywords. 
Paid options provide more freedom and help you get results faster. You can use ads, buy job slots, leverage LinkedIn Recruiter or Talent Solutions platform to get your job ads to be noticed faster and by more people.