Long or unreadable links can be confusing. Before you place such a link on social media or into an email, it would be better to shorten it and make it user-friendly. As a result, it can increase your Click-Through-Rates.
We have described the most common situation where a link shortener can be helpful. In fact, link shorteners have plenty of features that you might wish to use.
We'll see how URL shortening works, and why it is a good idea to use URL shortening services for your business or personal brand.
What is a URL shortener?
The link shortener is a service that automatically shortens the input link.
In the early days of the internet, there was no need for URL shorteners. But the digital space grew quickly, so more people were using it and creating more pages. In 2002 Kevin Gilbertson wanted to post links in the postings in unicycling groups, so he created Tiny URL, the first notable URL shortener. It's still working, without offering more features with time. There were no plans for TinyURL: "It's a good, simple idea and it's useful for a lot of people," the creator said in his interview.
The popularity of TinyURL has led to the creation of at least a hundred similar websites. They became necessary thanks to sharing platforms. Twitter with its 140-character limit counted all characters in a link. You couldn't share your thoughts on a film if the link took half of that space, so short links were popular among brands and regular users.
In 2017 Twitter increased the character count to 280 and started cutting all the links to 23 characters. Now the shortening services are focused rather on extra options, being a branding tool instead of just short links. So, even if the space is not an issue you still might consider using a link shortener for your social media posts.
How does URL shortening work
The short link version acts as a redirect, which allows your webpage to be accessed as more than one URL address. Both URLs will lead the user to the same page. Your URL is replaced by another domain and the permalink is replaced by numbers or letters, which can be customized.
For example, here's how TinyURL has shortened the link of the National Geographic video about raising baby pandas from 73 to 28 characters. Even without customization, it got more manageable.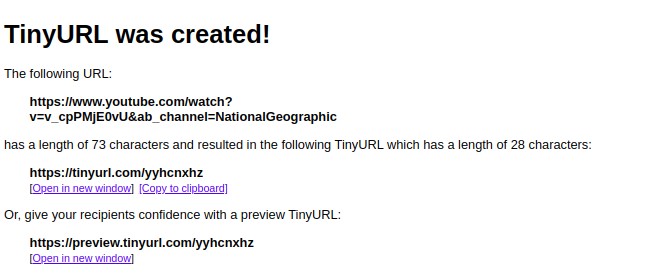 The oldest URL shortener is still alive and kicking, even though it probably would be more suitable for shortening a link for a personal email. It wouldn't win any design awards, but it definitely gets the job done. It has a useful feature many others lack, you can add TinyURL to a browser toolbar, so you can shorten links for whatever website you're on.

(Image source: https://tinyurl.com/#example)
Why you might need to shorten links
Even though the need to shorten the links started with the character limit from Twitter, the modern link shorteners offer more than just a shorter link. They are focused on analytics and link tracking. So, why use a URL shortener?
Track the success of social media posts or marketing campaigns
You will be able to see if some social networks need more attention, or check statistics to see if people loved your new posts. You will be able to track all the clicks to enhance your analytics, which can help you understand where most referrals come from or track affiliate commissions.
Make your posts user-friendly
If you post long links, they may look confusing for people. Adding tracking parameters to them might make them look like spam, so a URL shortener will make them concise and clear. It also will give you a chance to insert UTM parameters without making the link suspicious and\or ugly.
Control all your links in one place
When you share your new product on all your social media, it's easier to track and change the link in one place, than looking through all the versions in all your marketing channels to edit something.
Raise your brand awareness
Your links not only will be more memorable with a short domain and a snappy permalink. A branded link will help people recognize you and get the idea of the link content. Working on your brand recognition would be especially important if you have younger audience. According to NewsCred's study, brand recognition is an important driver of brand loyalty for millennials.
Boost your click-throughs
When people recognize links as yours, they are 34% more likely to click on them.
URL shorteners often provide team roles, so that you'll be able to delegate tasks and create branded links in a collaborative way. URL shortening services would come in handy when dealing with large projects.
What Can a URL Shortener Do?
Among the most useful shortening services are Bit.ly, Rebrandly, and Piar.io. Each shortener provides its unique set of features. We go over the most popular and helpful of them.
Shorten links
This is quite an obvious one. You paste your link and it becomes cleaner and more manageable. For example, techcrunch.com might be a great main URL to have, but when it comes to social media, it might cost you space. A short, branded name tcrn.ch for sharing still gets your business name out there, without limiting your post space. It also makes it easier to share a short URL.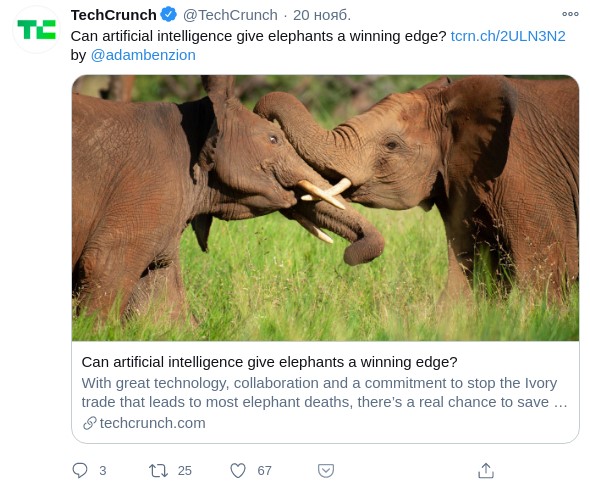 Link Preview
When the link is added to a post or a message, it includes a link preview, providing a summary of the content at the link's destination. Link previews are pulled a bit differently by each social network, so the link preview might not be the same on every social network or messenger. With the piar.io preview generator, you will be able to see exactly how your link will be displayed in each social network/messenger.
Customizer
Get even more control over what your subscribers see, change an image, edit the title and description for your link, for social networks or messengers.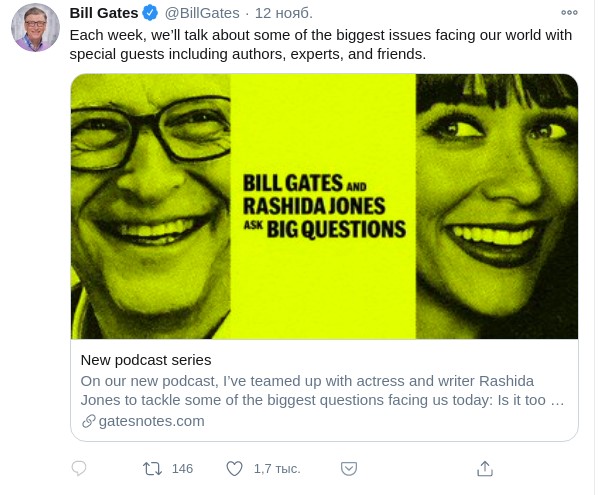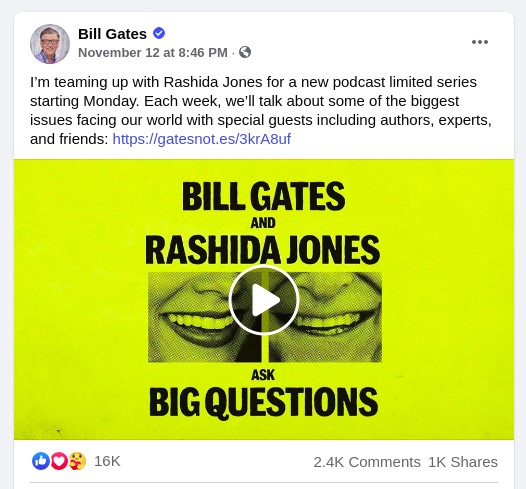 (image source: https://twitter.com/BillGates/status/1326953686455574529)
Link branding
This handy feature makes the short link you're sharing all about your brand, not the service you're using. You connect your own custom domain to the link shortener.
For example, 'url.shortener/37daj ' becomes 'brandname.link/isjustwow'. Link branding helps you raise brand awareness, create a stronger connection between your company and the content you're sharing, and promote brand recognition.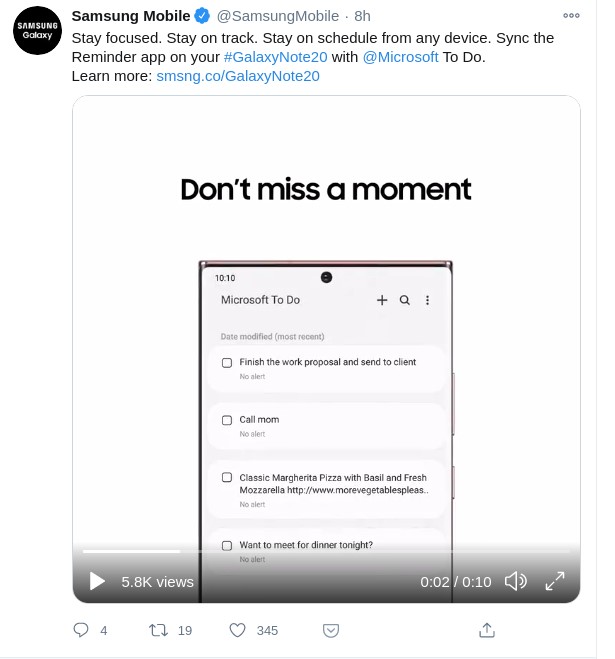 (image source: https://twitter.com/SamsungMobile/status/1329577698000216065)
Link Tracking
Link tracking is essential to find out whether your marketing campaign is actually working. The analytics will give you a better idea about people coming to your website, your click-through rate. Some URL shorteners track the clicks themselves, some services attach Google Analytics tracking data. You'll be able to understand which types of content people are most interested in. You can use this information to set your marketing plans and get new ideas on what campaigns to launch.
Autofill
When you add the link to your post, the default title, description, and image are pulled from your webpage, so that you don't have to spend extra time on it, unless you want to add something special.
Link Changing
If you decide to add new tracking parameters or launch a new marketing company (or even if you already shared the link, but realized you forgot to add a UTM tag), you will change your link. And instead of going through every social network, you will change it only once, in your dashboard.
This feature also allows reusing short links. For example, you can change the destination URL for your link in bio on Instagram when promoting new content, keeping the same short link.
Link retargeting
With retargeting, a snippet of code is added to your website, so that after people visit, you can show them ads. The URL shortener can add a similar snippet to the link so that people will get tagged with that piece of code just by clicking on the link, which will help you set your targeting. You can use the URL shortener to expand your custom audiences inside Facebook or Google AdWords.
How to shorten your URLs
Now you know what using a link shortener can do for your business. Follow these steps to seamlessly add links to your social media posts and messages with piar.io
First, log into your account, then go to the "Create new" button. This will take you to a place where you can shorten and track your link.

Paste your long URL into the Destination URL box, it will generate a shortened link.

Unless you want

piar.io

to pull title, image, and description from your website, edit the information about the link, and add the picture. If you want them to be added automatically, press the magic wand button. If you choose to add the picture yourself, you will see the grid lines while you edit the picture as well as the ratio for the chosen type of social network.
The previews for social media and messengers are displayed on the right. Each social media website shows information a little differently, so you will be able to see exactly how it's displayed.

Click add domain if you want to create a branded link. If you choose not to customize the link, it will look something like that

https://piar.me/1a2b3

.

Once you've copied and shared your link on your social media, you will be able to see all the statistics on the dashboard. You will see the total clicks, get a daily or geographical breakdown, as well as the types of devices people use to access the content so that you can fine tune your marketing strategy.
Summary
URL shorteners have gone beyond making your links look clean. You can use them to analyze how your marketing campaign is doing, to increase brand awareness, and even to build trust. They can be helpful whether you're using them for your business or for sharing funny videos in your family chat. One thing for sure, if you're juggling multiple social media networks, a URL shortener is a must-have tool.