Statista predicts that business spending on affiliate marketing will reach $8.2 billion in the USA only by 2022. So, how does one get started with affiliate links? Can you get into the affiliate marketing industry without a website? 
In this guide, you'll learn how to get started with affiliate marketing in 2021 if you don't have a website.
What are affiliate links
Affiliate links are links you share to promote a product or service to earn money (commissions). You only get paid if people click on the link and subscribe or buy the product. So it's like working as a sales rep, but without talking to people. Or being limited by only one company.
How does affiliate marketing work
Affiliate marketing involves several parties.
First, there's a merchant or content creator. They create content or sell products. Anyone can become a merchant and create an affiliate program, as long as they want to sell something. 
Then there's an affiliate, a person who shares the individual link. They share the link and mention the product's benefits, as they're interested in people actually buying it. For example, they write a review or even create a website to promote affiliate products.
There's also a customer, who is vital for affiliate marketing, as you will get paid only if a customer performs a certain action. It's usually a purchase, but it could also be signing up for a trial period or leaving their email. So, a customer clicks your affiliate link, which saves a cookie file to their device. This file remembers that it's your link, and when it was clicked. This way, you'll get paid even if a customer finishes a purchase later. For example, Amazon affiliate cookies last 24 hours. So if a person visited your YouTube channel, clicked on your link, but then got distracted by a delivery, you'll get your commission if they finish the purchase within 24 hours.
There are different types of payment models in affiliate programs:
СРV – you get paid for placing advertising 
CPA – you get paid for targeted actions performed by visitors (leaving email, following a link, etc.)
CPS – you get paid if a customer finishes the purchase
CPI – you get paid if a customer installs application
The types of payments are different in other niches.
Affiliate programs
There are plenty of affiliate programs to choose from. The choice will largely depend on your topic of interest, niche, level of expertise, and desired income. You can go for programs that offer higher commissions, like software, but they could have a limited market. Or you can choose lower commissions on products that attract a wider variety of people. You can also choose products that earn different commissions within your affiliate program.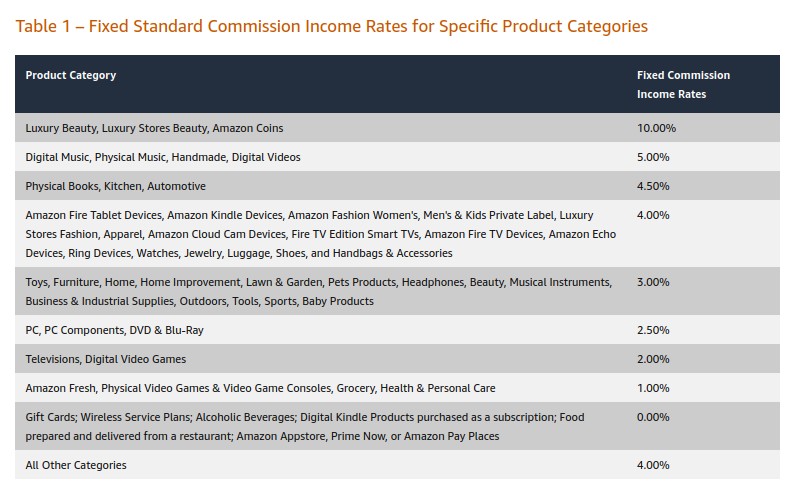 However, if you have a blog or a YouTube channel, you might choose a consistent array of products. Otherwise, people won't see you as an expert and won't trust your content, so you'll have to work more to attract traffic.
There are affiliate programs for everyone, you can promote sports gear, books, destinations, or video games. The best way to find an affiliate program is to start with a Google search.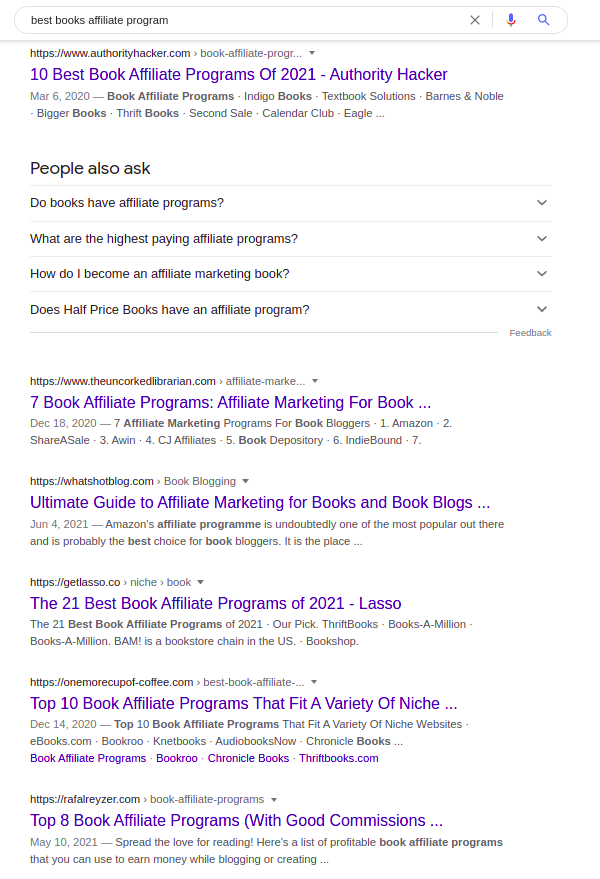 Or, if you already have a company in mind, but don't know if they have an affiliate program, you can reach out to them and ask if they're interested in affiliate marketing. Even if they don't have an affiliate program, they could set up an arrangement with you and, for example, create a coupon discount you could share with your subscribers.
Niches that have the most number of affiliate programs are:
Fashion (18.7%)
Sporting goods (14.6%)
Health and wellness (11.1%)
Travel (8.6%)
However, the affiliate programs aren't limited to the top contenders. Here are some examples of affiliate programs.
Amazon Associates
Amazon's affiliate program is definitely worth considering, as it's the biggest platform to sell all kinds of products: in September 2020, Amazon.com had over 2.44 billion visits.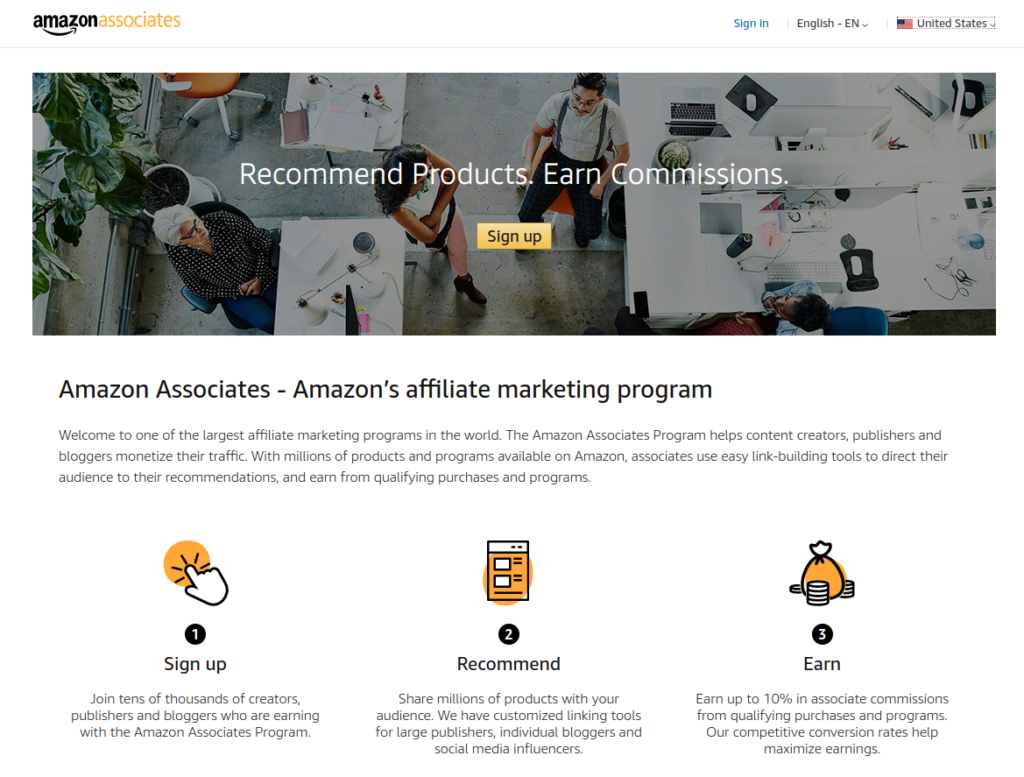 Pros:
Amazon's program will work for you if you don't have a specific niche, but have a lot of traffic to your blog or channel. However, you can use it with a very specific niche, as Amazon sells pretty much anything.
Gives you a recognizable brand.
Cons:
Some niches are less profitable.
They have a very long list of terms, which are sometimes not as clear as one would want them to be.
Skillshare
With this affiliate program, you can promote different online courses and skills. It could be a great choice for you if you choose to talk about education.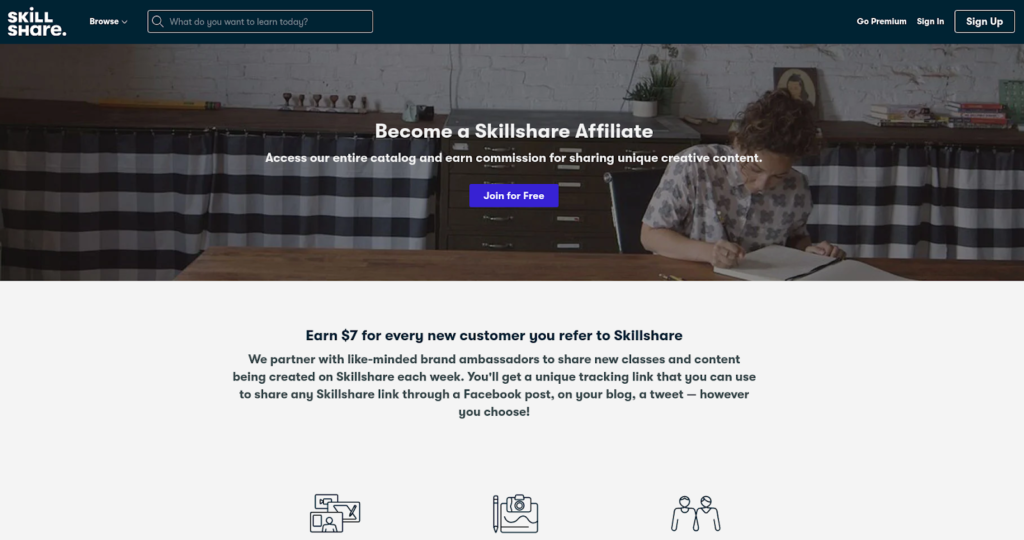 Pros:
30-day cookie
Monthly payouts
Trial sign-ups count towards your referrals
Cons:
Fixed commission — $7 for each customer who joins using your link.
Adobe
Adobe is a set of popular products to edit photos, videos or build web applications.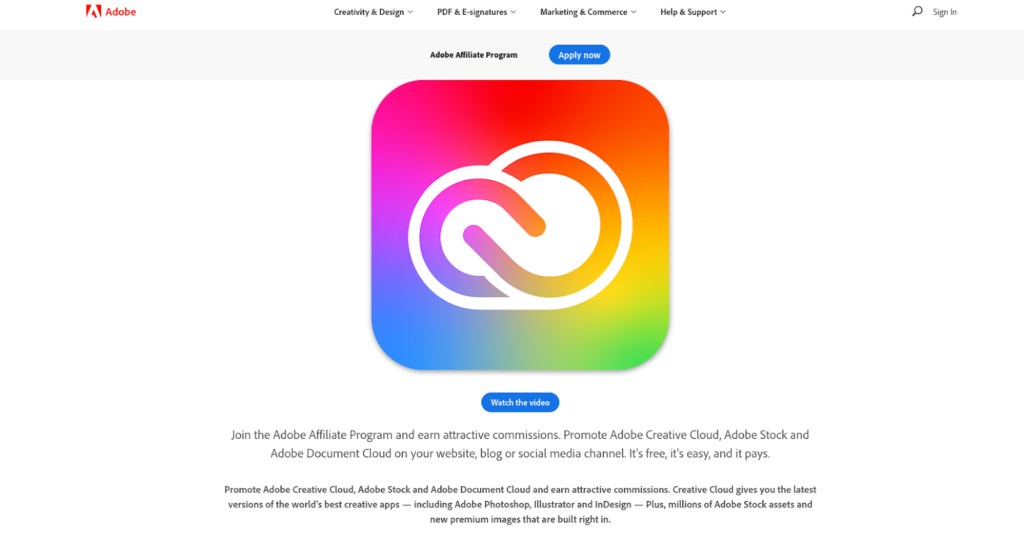 Pros:
High commissions — up to 85% for a monthly subscription
Extra incentives for your customers
Easy to start with
Cons:
You can promote Document cloud and Stock only in specific countries
Choose a few proven programs that tie down to a consistent niche for your blog, and start creating content.
But for opting for a standalone program, you could choose one of the dozens of affiliate marketplaces like CJ Affiliate or Link Connector.
Promoting affiliate links
A website for your affiliate content might be the best place to post affiliate links, as it will help to build the status of an expert in your niche, build more trust and gather all your affiliate links in one place. You can create content that targets your audience before you share affiliate links, or you can start by adding the links from the very beginning. The main idea is to provide your visitors with quality content that answers their questions. However, even if you choose a free plan, you'll still have to pay for hosting, domain, and probably an affiliate theme if you're choosing WordPress. It all can be a bit much if you're just getting started. Luckily, there are also free options, like a YouTube channel or social media. You can definitely have a blog on Facebook or Instagram, without having to create a website. However, note that you're required to disclose that you're sharing affiliate links.
Where can you post affiliate links for free?
Before creating an account to promote your products, consider your target audience. For example, if you've signed up for Amazon's program, choose image-centric platforms like Instagram or Pinterest. You'll be able to showcase products and appeal to purchases on the spot. However, if you're promoting a B2B solution or software, you'll be better off with Facebook or LinkedIn that will let you create in-depth articles.
Another thing to consider is the age of your audience. For example, Gen Z dominates on TikTok, while millennials make up more than 30% on Instagram.
Social media platforms will also influence the form of your content. And if you add detailed product descriptions or collect customer reviews, you can choose a platform that supports long, descriptive posts.
YouTubers can share affiliate links in video descriptions or display ads within the videos on the channel. The more popular a channel gets the more views their videos receive, and the more money you can make. However, you can't join the YouTube affiliate program from day one: you need 1,000 subscribers to be eligible to monetize your channel through their program. YouTube will work best if you're promoting something that can be best shown in action. Depending on the product, you can create how-to's, unboxing videos, or holiday wish lists — there are so many types of videos to choose from.
You can create a blog even without a website, using publishing platforms like Medium. You'll still be able to create SEO-driven content that answers the questions of your target audience. It's easier to convince a visitor to buy something if they're already looking for something, than if they just stumble upon your content.
If you share your affiliate links on social media, it comes with certain limitations. For example, if you share a link to a new account on Instagram, it will be clickable only in your bio. If you share it in the description of a post, it'll be plain text.
Use link shorteners to share links in bio or even post descriptions. This way, your link will be easy to remember and copy. For example, an affiliate link will look something like that: https://www.sendinblue.com/?tap_a=30591-fb13f0&tap_s=954310-a538cb. It definitely wouldn't look good in an Instagram bio and will be too long to copy it from the description.
Here's how to optimize your affiliate link:
Log in to your affiliate program and generate your unique link. 
Click 'Create new' and paste your link.
Click on the 'Magic wand' tool to pull all the information from the page. Or fill it in manually. The image and information from the title and description will create a preview when your link is shared on Twitter or in a messenger. You'll see all the previews on the right side.
4. You can also add your domain, or use piar.me domain and customize the URL slug. This way it'll be meaningful even if you don't want to use a custom domain.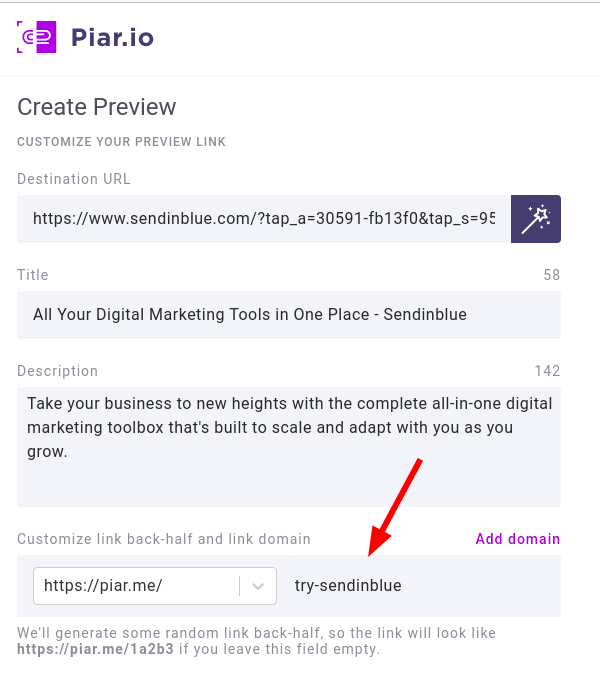 5. Click 'Generate link' and you'll be able to use this link across your social media.
Once you have your link, you'll be able to track its performance. You'll know how many people clicked your link, where they come from, and when they click it. Statistics will help you adapt your strategy, and learn how to promote affiliate links.
Getting traffic to your affiliate link
Signing up for an affiliate program is just the beginning. If you post affiliate links, but your profile or blog gets zero views, you won't be able to make any money. Here's how to get traffic to your affiliate link.
Content
Creating useful and engaging content is essential to provide enough value for your visitors so that they subscribe and click your affiliate link. But it's also important for search engines because if people leave your website soon, it didn't match their searching intent. So, it could influence your blog's ranking on Google. To stay relevant for your readers:
Monitor what's trending in your niche
Set up Google Alerts to find what people are searching
Try tools like Ahrefs or Buzzsumo to learn more about your competitors
Communicate
Social media are, well, social. You won't get very far if you don't engage with your followers or even your competitors. Mentioning competitors, you could try and establish some connections with other marketers. Share or comment on their posts if you have something valuable to add. You can create great content, but it's hard to do everything on your own. Other marketers could be open to collaborations, creating guest posts, or help with link building.
Do your keyword research
If you're promoting your offer through a blog post or YouTube channel, research what keywords people might use while searching for a relevant product. Use tools like Ahrefs or Google keyword planner to find target keywords to include into your headlines, meta title, and copy or the title of your video.
Stay consistent
Stick to a consistent schedule, don't switch niches if you get impatient. Promoting anything on social media is about building an audience, which takes time. Regular posting will keep you accountable, and give your readers something to expect. You can start with trying different posting schedules, to find the one that gets more views and stick to it.
Promote your content in target groups
There are all kinds of groups on Facebook or LinkedIn. Use their search and share links to relevant products or your content. However, quality groups with active members usually frown upon spam, so wait till it's relevant, and participate in discussions, as people might also visit your profile if you're more visible.
Create guest posts
When you submit a guest post, you include your short bio, often including your social media. You could collaborate with other creators and create guest posts or videos for other blogs, channels, or Medium online publications. Guest posts work best if they're a win-win. You get access to a wider audience, and another blogger gets quality content. Research blogs and channels in your niche, contact the owners, and ask if they're interested in the guest blogging. You could study their blogs, and create an idea to pitch to them. Then, once your pitch is approved, you can create a guest post. The same goes for Medium publications. Find one that fits your niche and study article requirements. You can embed your videos into the article and add the links to your blog posts. Once your post is approved, it'll be recommended to a much wider audience of the online publication.
Summary
Here's how to promote affiliate links without a website:
Sign up for the affiliate programs with the products that match your interest.
Choose a social media platform you're most familiar with. Alternatively, start a blog on a publishing platform.
Create an account, and start creating content to attract the audience.
Optimize your links with a link shortener.
Share your affiliate links once your account gets traction.
Use techniques to attract more people to see your affiliate links