Twitter might generate conversations mostly about politics, but marketing campaigns on Twitter are still 40% more effective than other channels. You can start posting links on Twitter to blog entries, websites, and other tweets or lists to engage with your audience. Putting your website links in a tweet can be part of the strategy to direct traffic to your website.
We'll discuss how to shorten URLs for Twitter and walk you through the process with piar.io.
Why need to shorten links for Tweets
A URL-shortening tool is created to manage long links. The new short link forwards to the original link's address, but looks shorter for the audience, and tracks the clicks. Depending on the service, you'll get a breakdown by demographics.
Originally link shortening services were necessary because of Twitter's 140-character limit. In late 2017 Twitter allowed for 280 characters, but link shortening services are still in demand. Thanks to Twitter's own link-shortening service, every link counts as 23 characters, even if the link is shorter. It means that you have 257 characters to express yourself if you tweet a link. Not that you'd be expected to use all the characters — only 1% of tweets hit the character limit. 
So, if Twitter will shorten your link anyway and no one expects you to make long tweets, what is the point in using a link shortener for Twitter? Well, link shorteners give you more than just short links:
Vanity links

. They make links more memorable, turn them into brand assets and hide all the tech details helpful in tracking a link's performance, but make a link an eyesore. 

Engagement

. According to Rebrandly, branded links get

39% more

clicks. People are also more likely to share them.
Attractive previews

. Twitter previews can look weird because their algorithm cropped images or because the website settings were off. If you use a link shortener that lets you edit a preview, you're going to be at the top of your game with images, and it can get you

five times more

engagement.

Insights.

Link shorteners provide additional statistics that go beyond the number of impressions and profile visits. You'll get real-time statistics and also information about the device type, location of your users. If you share links to your website on multiple social platforms, you'll access them in a single dashboard instead of going through individual social media analytics.
How to use Twitter Link Shortener
Here's what you need to know about using Twitter link shortener. You will use Twitter link shortener every time you paste a link into a tweet box or Direct Messages. If you wonder how to put a link in a tweet — just paste it, and Twitter will process and shorten it automatically using t.co.Twitter also has built-in tracking to see how relevant each tweet is compared to similar tweets. To see the Twitter Analytics pop-up, click on the bottom right button showing three vertical bars or three dots in the top right corner. The pop-up will show the number of impressions and engagements for your tweet.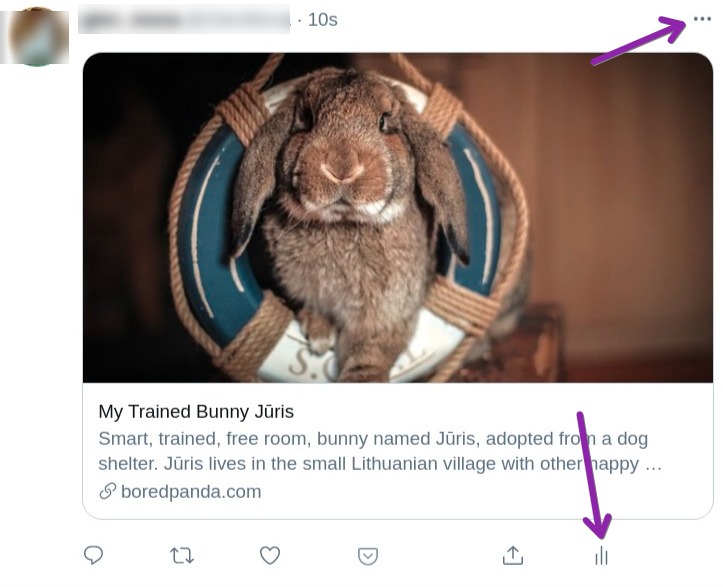 You can also use Twitter's analytics platform to see summaries of account impressions, engagement rate, and best-performing tweets. Twitter used to provide insights on the audience, but they removed this feature in January 2020. If you want to understand your audience better, you need analytics from link shorteners or other Twitter analytics tools.
Twitter's link shortener also checks the link against potentially malicious websites to protect the users. They will see an error message, warning that the link might be unsafe.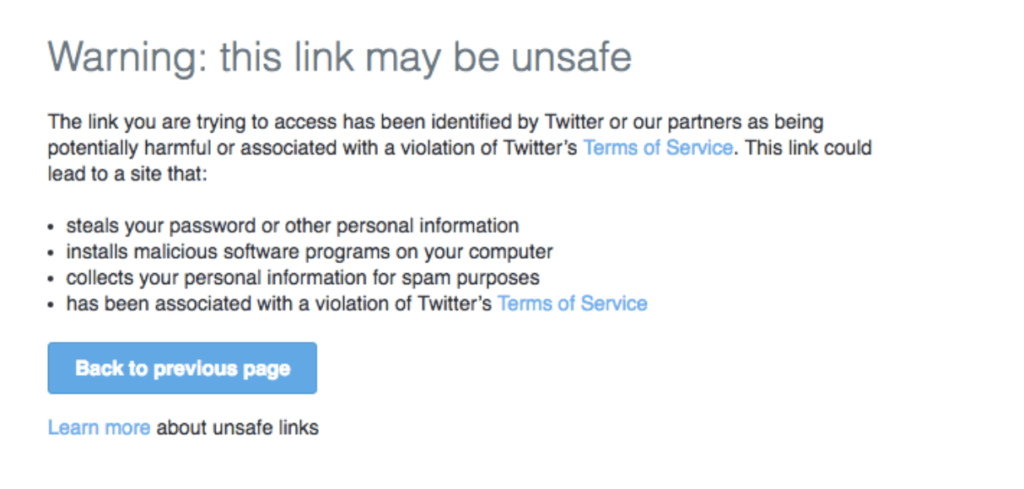 When you tweet a link, Twitter creates a link preview. It's a clickable picture with a description that gives your readers a glimpse of what the content of your webpage is about.
If you want to remove the preview image, just hit the (X) button on top of the left corner of the image once you have pasted the link. You can do it both from the Twitter app and website.
Sometimes, when you add a link, the picture preview doesn't work, or it shows not the picture you wanted to be in this tweet. It happens because Twitter automatically selects the image based on the meta tags set on the website. Either a website doesn't support Twitter cards, or your open graph tags aren't set correctly. Both technologies have to do with rich content from your website you want to display. Some recommend checking your website against Twitter validator, but you can just use a link shortener to edit link preview.
We'll list popular link shorteners for Twitter and show how to shorten URLs for a Twitter post to get a great preview card.
How to use other link shorteners for Twitter
There are many link shorteners that can shorten URLs for Twitter, and we'll cover some of them.
Piar.io
Piar.io is an easy-to-use link shortener designed with non-tech users in mind. It shortens the links both under piar.me domain and your custom domains. Piar.io lets you create branded short links, edit your links and track statistics. You can see how many people clicked on your link, get a breakdown of device type, browser, and user location. You can also share statistics in one click, for example, to share as a report for your marketing team.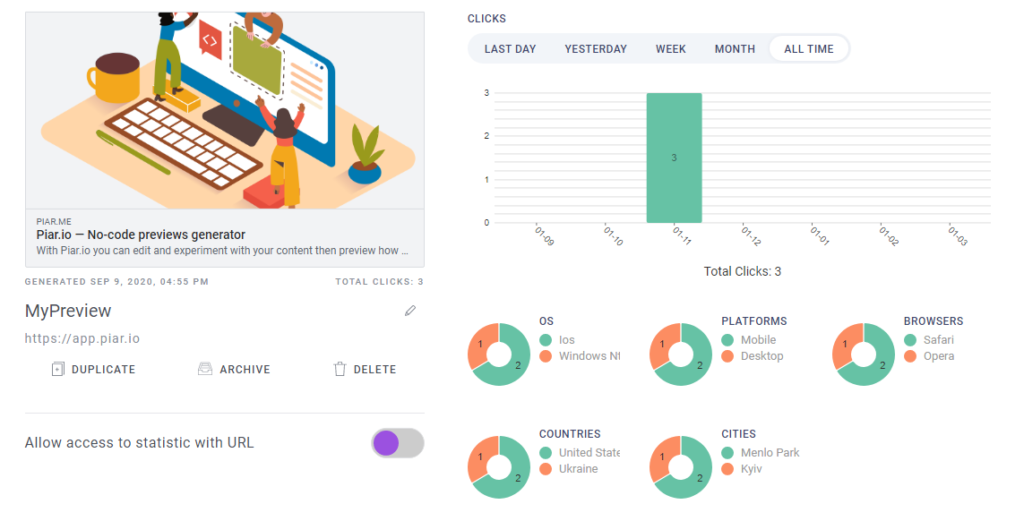 When you shorten a link, you can see previews of all the social media and messengers — that's what your link post will look like. When creating a link, you can have all the information filled for you, with autofill feature, title, description, and image pulled from your website. Suppose you'd rather have a different picture or a snappier description. In that case, you can edit the preview without having to google the necessary picture sizes or logging in to see if it actually works. Also, piar.io lets you edit your links. Say you forget to add UTM trackers to your link, or simply add a link to a wrong campaign by mistake. It's quite unpleasant because Twitter has no edit feature, so you'll have to copy your tweet, delete it and tweet the fixed version all over again. With piar.io, you can edit your link destination in the dashboard and save your reactions.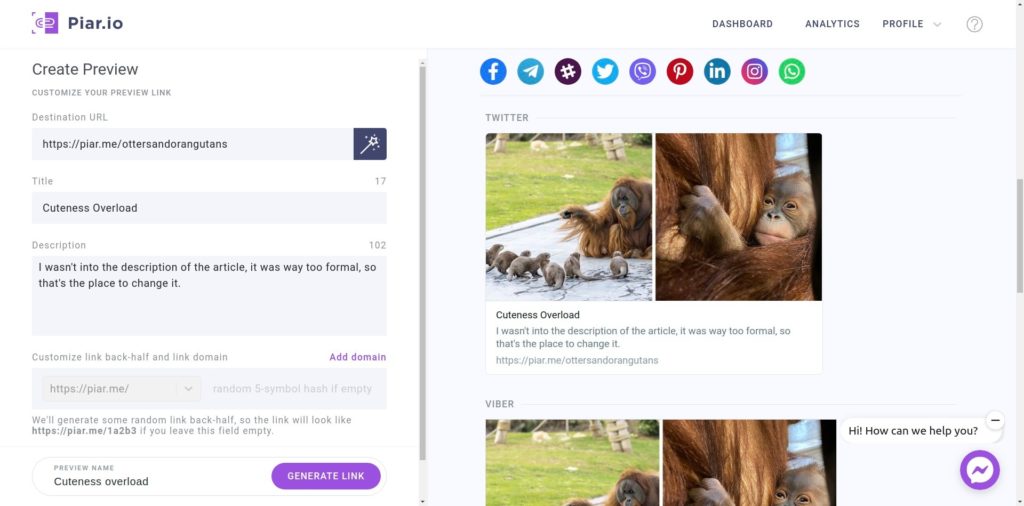 Basic piar.io plan lets you have five full custom domains, unlimited links creation, 20 links with real-time statistics, ten team members to create links for your campaigns and track their performance for $19 per month. There are plans available for bigger teams and marketing needs.
Bit.ly
Bit.ly was initially used for link shortening on Twitter before t.co. Enter a URL and click the 'Shorten' button to receive a short link that leads to the same destination URL. The default shortened link is a mix of random letters and numbers.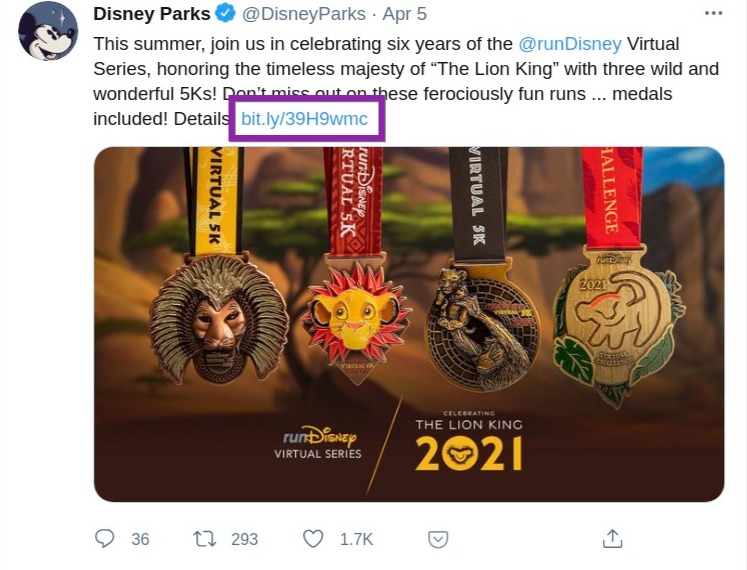 In paid plans you can also create custom vanity URLs that create a more wholesome brand image and measure link performance in real time.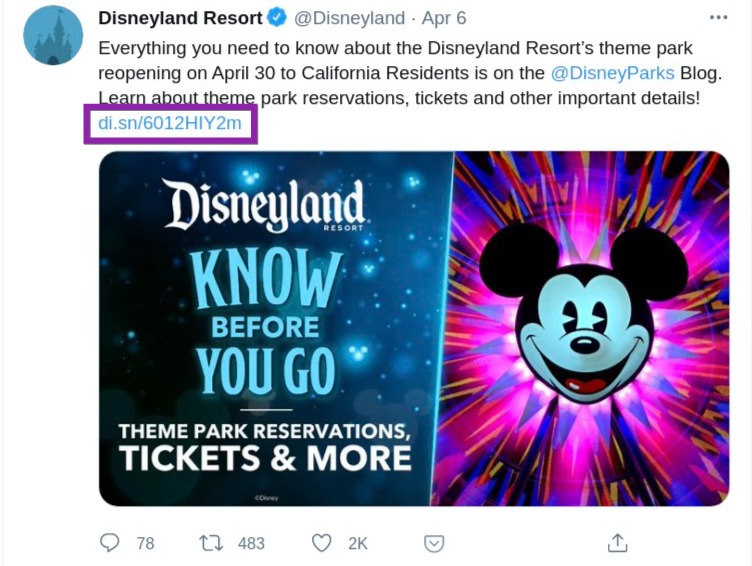 You can preview bit.ly links without clicking on them. Let's say you were sent a bit.ly shortened link, but you are not sure if it is safe. To see a preview of the page, put a "+" after the shortened link, so you don't have to go to the website.

TinyURL
TinyURL is one of the original link shorteners, which had a complete makeover recently. It still offers quick link shortening, where you can customize the back half of the URL, but now it does a bit more than just that. For starters, it has paid plans now, and the free plan is ad-supported.
However, on Twitter, TinyURL is still associated with times when the service was completely anonymous and widely used by scammers, so people are less likely to click on them. So, now even TinyURL offers branded links. In free plan, you get a shortened link under the tinyurl domain. You can edit the back half of the link if the name you want isn't taken by someone else.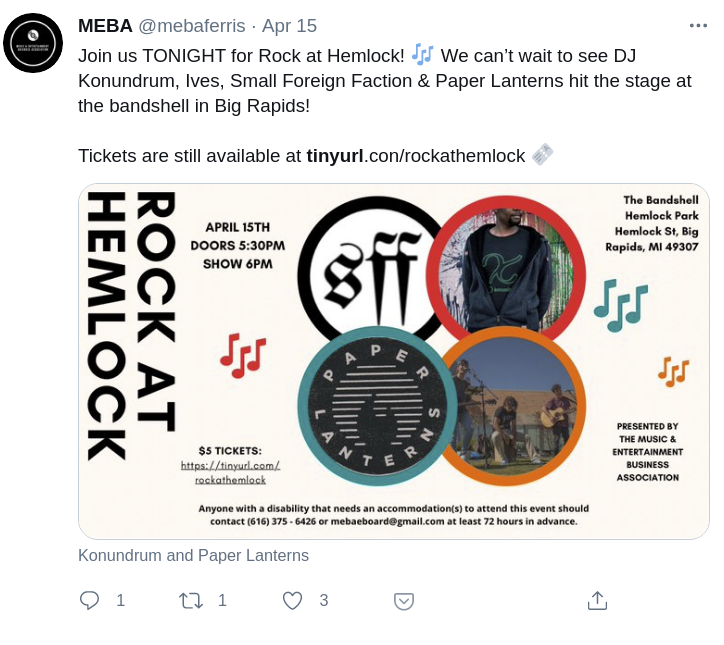 How to add a link to a tweet
We'll walk through the shortening process of using piar.io.
After you've signed in, you'll need to copy the link you want to share on Twitter.
Click 'Create new' in the piar.io dashboard.
Paste the long link.
You can either fill the description yourself or click the 'magic wand' autofill button. This way, all the info will be automatically pulled from the page. On the right, you can see the way your link preview will look on Twitter or any other social media platform. If you don't like the default picture or description, you can add another picture or edit the title and description.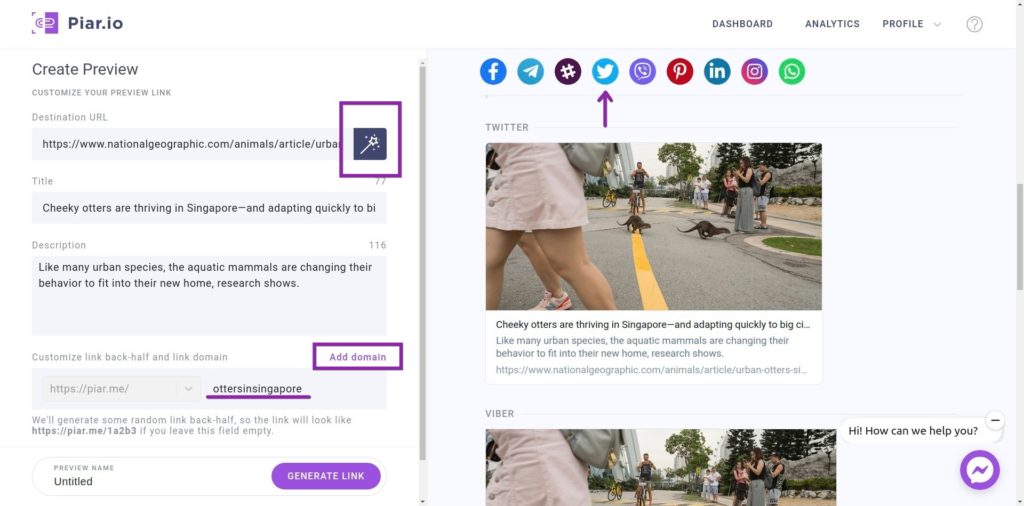 3. So, how to post links on Twitter? Once you've done this, you can tweet your link. Paste your link into the 'What's happening?' box.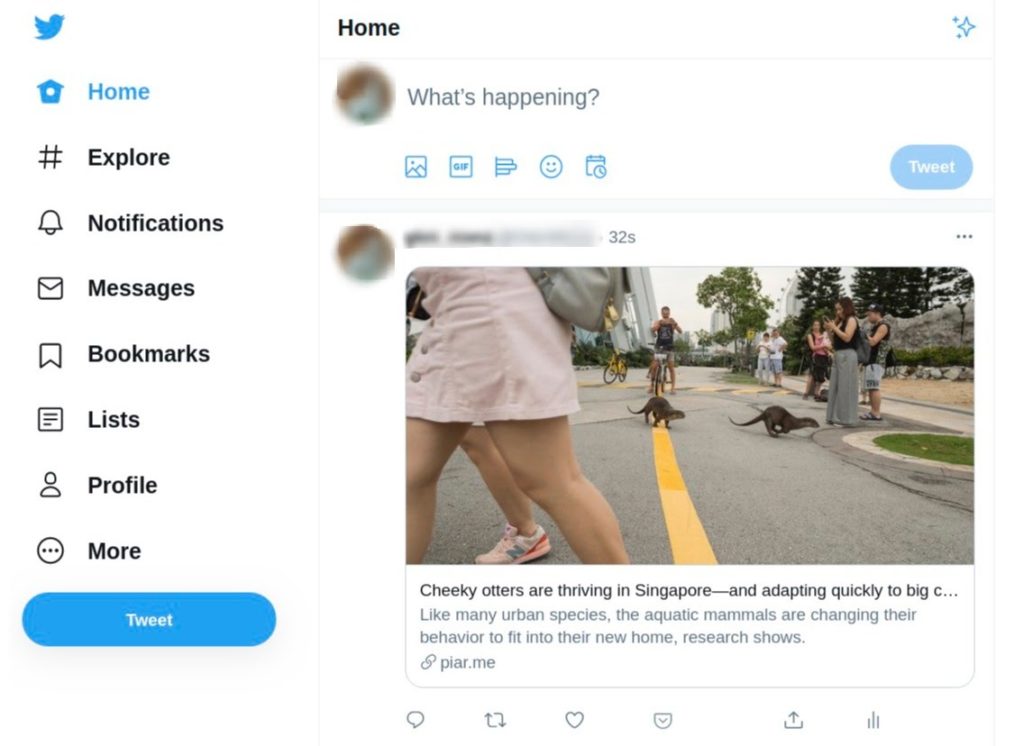 Consider writing why people should click on your link or adding a CTA. You might want to include some relevant keywords so that your tweet shows up in relevant searches.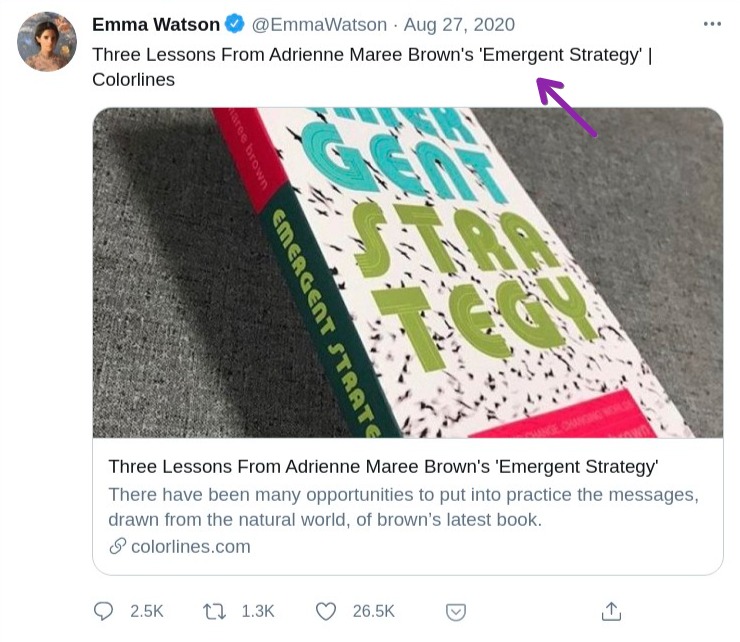 4. Once you've posted your tweet, you can see real-time statistics of your tweet as well as breakdown on device, location and browsers. You can share statistics with the rest of your team with one click.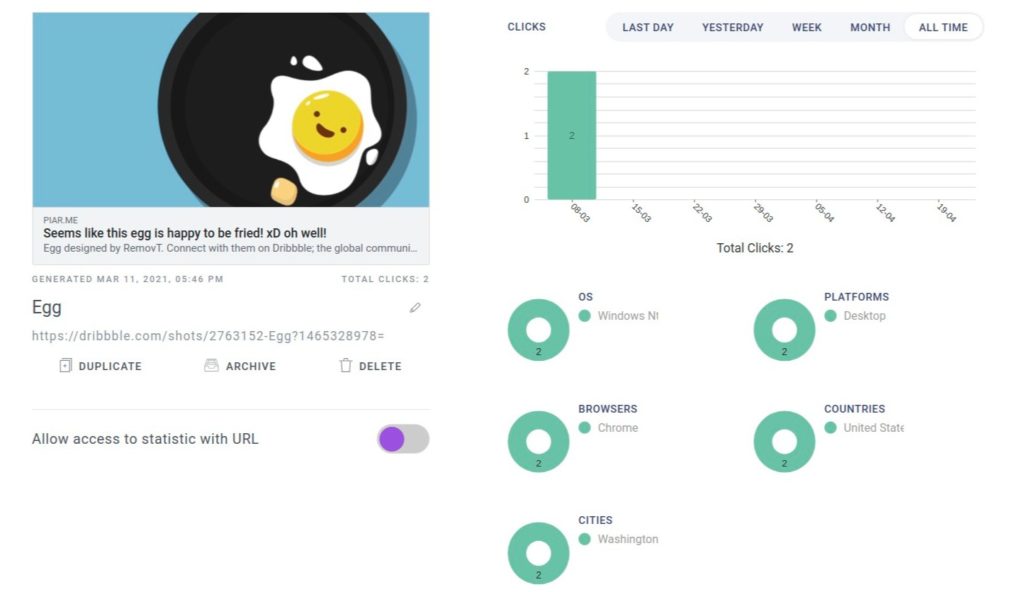 Summary
Link shortening came to be thanks to Twitter. These days short links aren't imperative because you have 280 characters for your tweet. Also, Twitter has its link-shortening service t.co, which counts all the links as 23 characters. However, using a link shortening service like piar.io can get you more control over your link preview, promote sharing and provide insights into your audience. Also, you can use branded short links that create a consistent brand image across all your social media.