When you share a link on social media or in the ad, you need to understand how people interact with your website or content. Otherwise, you might end up spending money on ads or landing pages that bring you zero conversions. That's why you should use tracking links whenever you use URLs in your marketing activities. We'll walk you through how to track clicks on a link.
What is a tracking link
A tracking link is a special kind of link that can track your original link. It shows you how many times your link was clicked and gets you the demographic information — location, time, browser, and device. Each tracking link is unique and belongs to the specific campaign. That's what helps identify the source.
As a marketer or a publisher, you need tracking links to track any marketing activity as blog posts, Facebook posts, email advertising, or digital ads. With tracking, you'll be able to see how much traffic you receive, identify the most effective sources, and what marketing channels are actually working. For example, you can see how many people clicked your link from Twitter on an organic post that was a part of your Christmas marketing campaign.
How URL Tracking Works
Link tracking helps marketers a lot, but it doesn't affect the user; the whole process happens in the background and is instantaneous. First, a user clicks a tracking link, and the connection passes through a tracking service. It logs information about the click and forwards the user's browser to the final destination.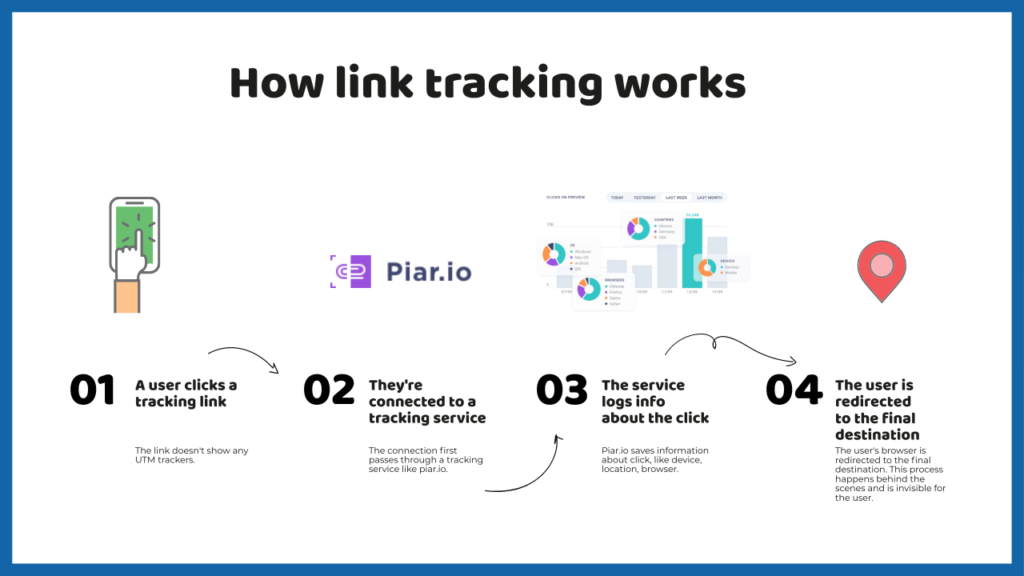 Link tracking is the most reliable way to track the links you share. It's based on redirects, so the number of clicks is accurate. If you choose to track them using cookies, you'll get lower numbers if your visitors' browsers block cookies by AdBlock and the like. Because of that, some visits can be invisible to Google Analytics so that redirects can offer more precise numbers.
So, if you want to know how many people from the USA clicked on a link in your tweet, you need to choose a link tracker. Twitter offers their own analytics tool that track click on Twitter, but chances are you have at least a couple of social networks, landing pages, and a website. So, using a link tracker will provide you with all your data in one place.
What is a Link tracker
A URL tracker is a service that logs information about the time of the click, device, browser, type of device, and location. It can help you manage your links, make them pretty, test different ads, and so much more. Further, we'll share link trackers you can choose from and show you how to use one.
If you use the influencers campaign, the link tracker will show if it's a working strategy for you. Using a link tracker can save your money on marketing activities by directing your resources to provide maximum results whether you work at an agency or a small business. Another way to use a URL tracker is to redirect your users. For example, you could set up advanced redirect features and redirect users based on their location. If you have a visitor from Spain, the link tracker will redirect them to your Spanish website.
All the tracking is possible thanks to UTM trackers. UTM trackers or UTM parameters are short pieces of code added to the end of your link. They contain information on where this link is shared and its purpose. This way, it helps you recognize traffic and clicks from a specific post or a campaign.
Here's a link with UTM parameters that come after the question mark:

You can add UTM parameters manually, use Google Campaign Builder tool or URL builders within link trackers. We'll show how to do it on Google Analytics, as most builders follow the same structure.
How to track clicks on a link in Google Analytics
Does Google Analytics track only Google Ads? It tracks them automatically, and if you want to track your other marketing campaigns, you'll need custom URLs to track your data. You can do it thanks to UTM parameters.
UTM parameters or tags are special identifier tags added to the end of a link. They sync with your Google Analytics account and help track traffic or advertising sources in Google Analytics. If you add them to a tracking link to, say, a Facebook post, you'll see conversions and visits tied to that specific post instead of just seeing traffic from Facebook overall. You can set them up by filling a single form. Here's how it looks like: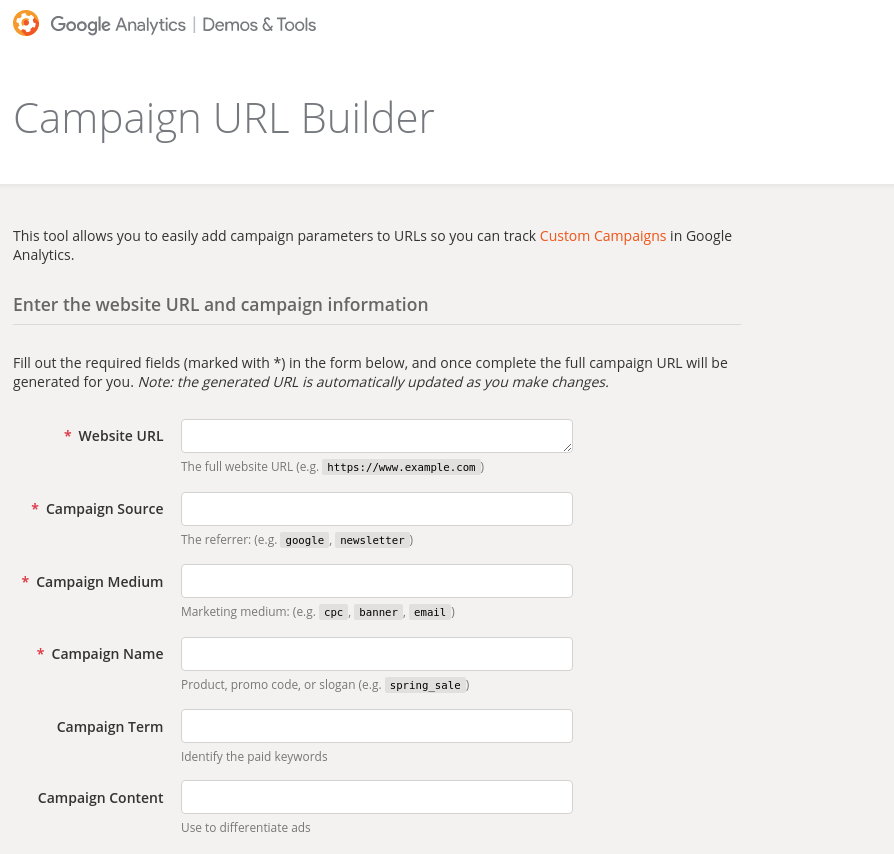 There are URL Builders for websites that will track data in Google Analytics, and also Builders for Google Play or AppStore. You can set it up in the Campaign URL Builder by adding UTM parameters such as utm_source, utm_medium to the URL.
Let's go over these fields.
Website URL is the address of the link you want to track.
Campaign source tells Google Analytics where clicks are coming from. Here you specify where you share your link, for example, on LinkedIn. Once the link is clicked, you'll see that your site has visitors from LinkedIn. Choose the name of the platform or service you're using, for example, 'mailchimp' for emails sent using Mailchimp.
Campaign medium is the specific type of medium that's generating traffic. For example, it can be a paid advertisement or a Facebook post. Typical examples are cpc, email, social, video, or even quora-answer.
Campaign name helps you identify your campaigns in Google Analytics, so be sure to create names that don't look the same.
Campaign term is for the keyword you use to target your ad.
Campaign content works mainly for ads. You can add here tags to differentiate between different ads leading to the same page. Google will automatically tag your advertising campaigns if you connect your Google Analytics and Google AdWords accounts.
Once you add all the parameters, the link should look something like this:

Here are some best practices to make the most of the UTM parameters.
Stay consistent. You can use any description for your traffic. You can choose your medium to be 'cpc' or 'paid.' However, keep using whatever you've chosen for the same type of traffic.
Choose your case. Pick whether you use lowercase or uppercase in your naming, as 'utm_source=Facebook' and 'utm_source=facebook' aren't the same. For example, if you choose lowercase, you'll eliminate the mistake of forgetting to capitalize something and getting statistics that aren't useful.
Keep it simple. Create standard names that are easy to track and keep using them.
Keep it short and specific. With names that are too long or start from the same phrase, you'll have a hard time figuring out what an actual campaign is in your dashboard.
Avoid spaces. URLs don't allow spaces, so they won't work in the UTM parameters as well. You can replace them with dashes.
Hide your UTM parameters. UTM tags are necessary for your marketing department; however, they can be annoying for your visitors. Use link shorteners to post links on social media.
The data pulled from your tracking links is available in your Google Analytics dashboard under Acquisition > Source/Medium.

Google Analytics 4, a newer version of the Google Analytics tool, automatically tracks outbound links and file downloads. When you configure a data stream in Google Analytics 4, you get to use Enhanced measurement. It tracks page views, scrolls, outbound link clicks, site search, video engagement, and file downloads. You can enable or disable events individually.

If you want to track certain link clicks specifically, use Google Tags Manager. You can create an account and connect it to your GA4 property. Google Tag Manager requires technical assistance, as you'll need to add some code to your website. So if you have no technical experience, you can stick with link trackers that require no coding knowledge but still can provide you with information on your clicks.
In addition to Google Analytics, you can use link trackers to get insights into your website's traffic. They have additional features that can be of use and can help track links that are shared elsewhere. For example, Google Analytics' tracking is based on JavaScript that needs to be put into your website code, and link trackers use redirects. This makes Google Analytics great for a site you own; however, if you track marketing efforts for a client or have no idea how coding even works, you can use link trackers that allow tracking external websites. There are link trackers that are oriented on tracking ROI of your campaigns, automate A/B testing and shorten URLs so that you can post them on social media. To get a well-rounded experience, you can use both Google Analytics and link trackers, as they often provide you with integration. Here's a list of link trackers to choose from.
Paid and free URL trackers
Piar.io
Piar.io is a link shortener that has a killer preview feature. It also tracks links and optimizes link previews for social networks and messengers. Preview lets you see how your link will look like in any social network, instead of posting it and only then seeing that your image dimensions were off. Piar.io works great for teams, as it lets you add multiple users, and they can monitor and share their links' results in real-time.
You can view the number of total clicks, see how many clicks your links got in a week or a month, get information on your visitors' browsers, devices and location up to a city. You can compare statistics, share the data in one click with your teammates or clients.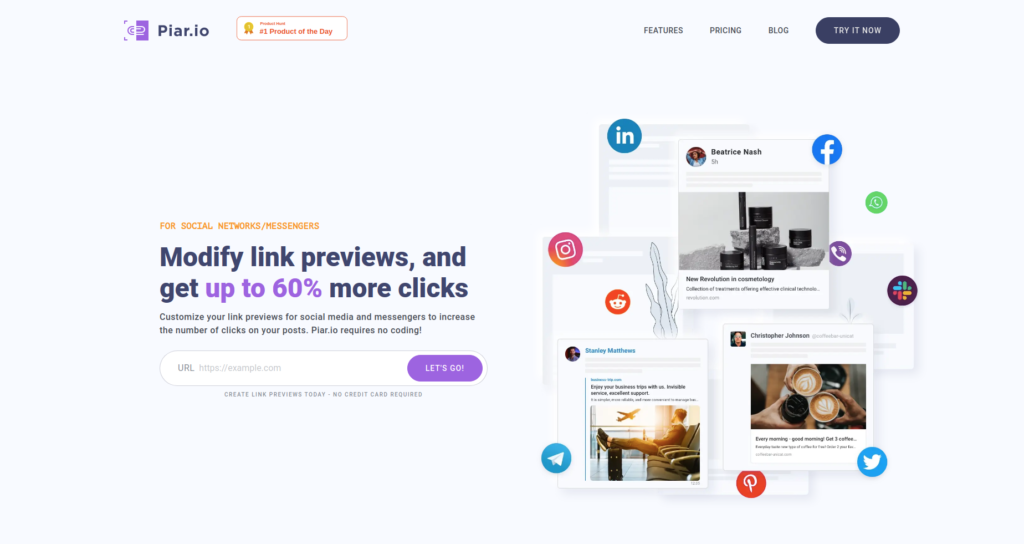 Features
Custom domains
Campaign analytics
REST API
Autofill
Link customization for sharing
Pricing
Piar.io offers 14 days free trial on each plan. The cheapest plan gives you five full custom domains and lets you add up to 10 team members.
Bit.ly
Bit.ly is the oldest tracker on the list, but it is most definitely still one of the most famous ones. Bitly allows you to create links for all kinds of marketing campaigns. Bitly collects 20 data points on every click, including local city or referral channels. You can track links individually or group them into campaigns.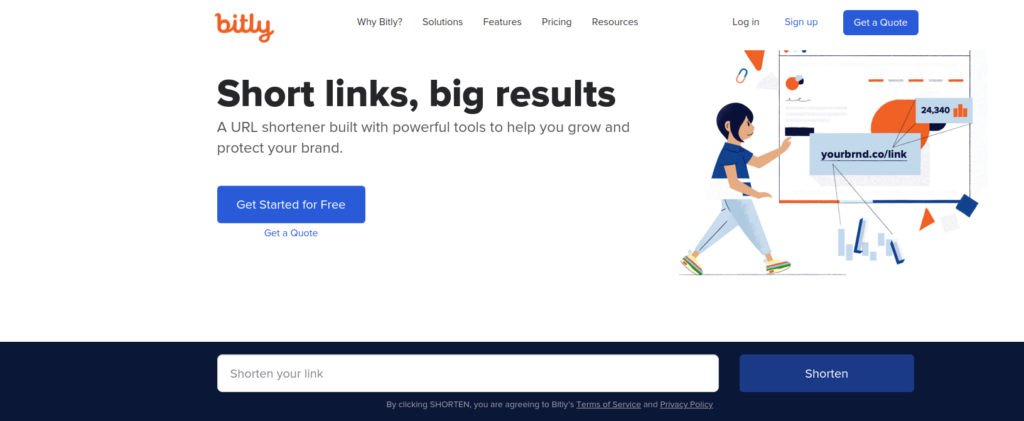 Features
Branded links
Link Management
Campaign Analytics
API
Mobile Links
700+ integrations
Pricing
Bit.ly has a free plan, which comes with basic features, but lacks essentials like custom domains. Paid plans start from $29 a month. With the basic plan, you can share up to 1,500 branded links a month and add one free custom domain. Link tracking lasts 30 days on free and basic plans. You can also get a tailor-made plan for your business if you contact Bitly to customize a plan.
ClickMeter
ClickMeter is a link tracker that lets you track conversions within cloud-based software. CLickMeter stores data 1-3 years depending on a plan you choose; however, the number of clicks is limited, and once you've reached the limit, you'll have to pay more.
Features
Branded domains
Retarget visitors — tracking pixels will retarget everyone who clicks on your links.
A/B split test rotator for links — test different sales funnels
Pricing
There are three plans to choose from. There's no free tier, but ClickMeter offers a 30-day money-back guarantee for each plan. The cheapest plan is available for $29 a month and offers one branded domain.
Pretty Links
PrettyLinks is a WordPress link management plugin that helps you track your links. It automatically generates short links for posts and pages and lets you easily add affiliate links. It can have some friction with free WordPress websites, as it opposes the ads created by WordPress.
Features
Automatically replace your keywords with links
Auto-rotating links
Split testing
Link importing
Pricing
There's a free version of the plugin, but you'll need to choose paid plans if you want to use branded links. Pretty Links offers a 14 days refund policy on their plans. There are three paid plans that mainly differ in the number of websites you can manage. The beginner plan starts at $29 a year.
Voluum
Voluum is an AI-powered link tracker with built-in optimization tools and automations to track ads and affiliates.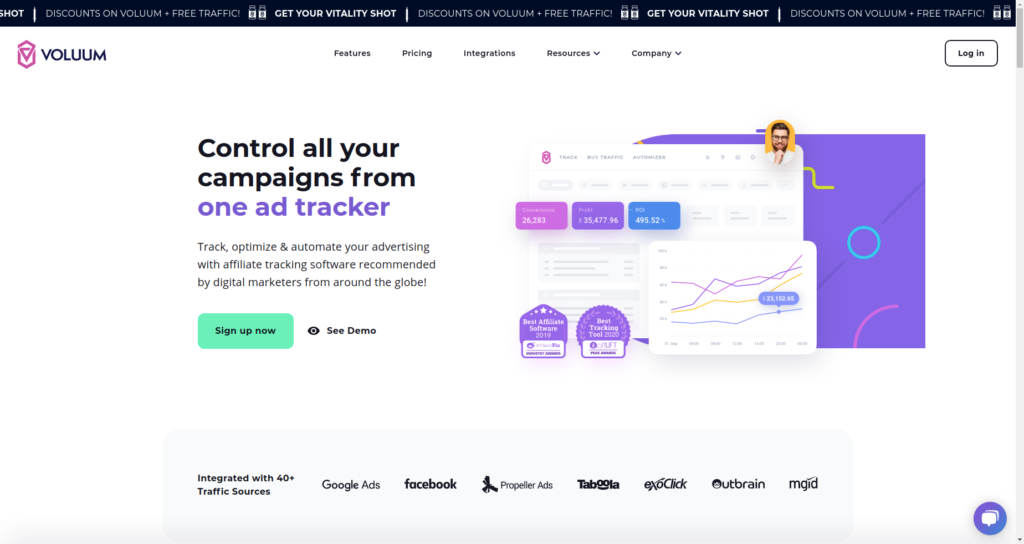 Features
Automatic A/B testing — test different campaign paths to see what works better.
IP/UA Filtering — filter unwanted traffic.
Impression tracking — track impressions of your banner ads.
API
Pricing
You can choose from four tiers, normally starting from $69 a month. The cheapest Discover plan comes with 20 active campaigns and one custom domain. Also, all the info about clicks will be stored for three months. Each plan includes an option of auto-migration if you've been using another link tracker before.
How to track a link using
Piar.io
The general steps will be similar for most tools. We'll show you how to track a link using piar.io.
Piar.io lets you shorten your links, track and manage them. Piar.io shows how many times each link has been clicked, so you'll know which links drive traffic to your content.
Copy the link you want to track.
2. Log into your piar.io account and go to Dashboard > Create new. Click the button to get started.

3. Paste your link into the Destination URL field. Instead of filling in all the info yourself, you can click the Autofill button, and the title, description, and image will be pulled from the page automatically. When you're happy with the way it looks, click Generate Link.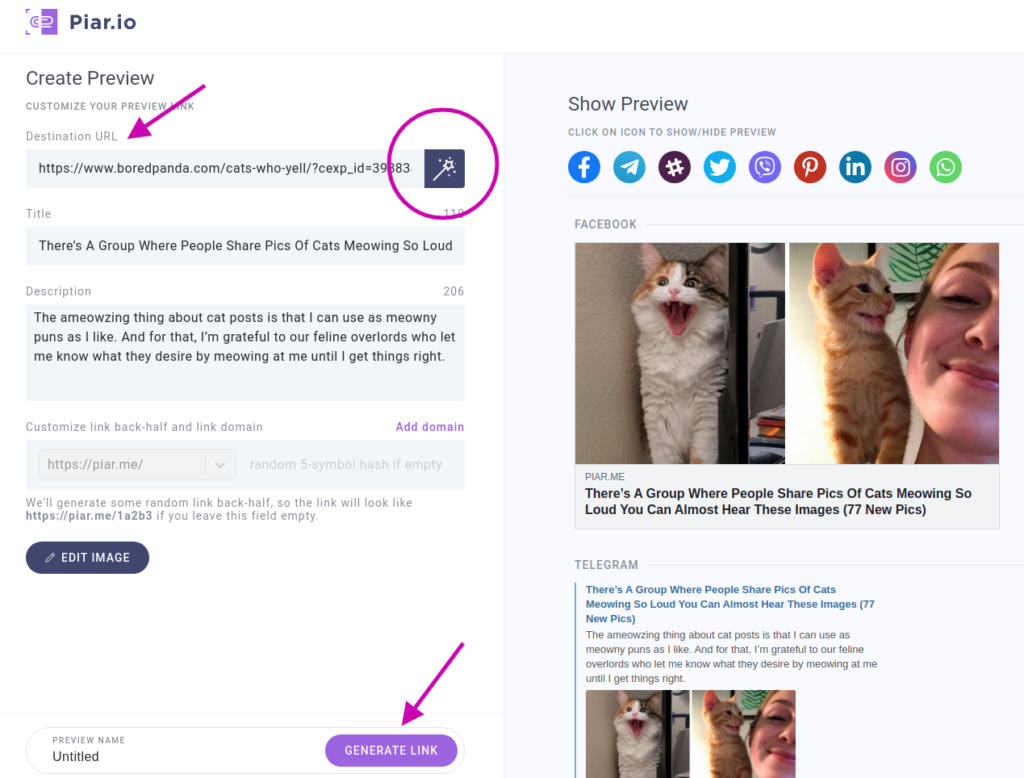 4. Once you get at least one click on your link, you can see the statistics of your link. You'll see your preview in the dashboard. Click See Stats to see your clicks. Alternatively, click on the Statistics button and enjoy your detailed stats.
5. In Statistics, you can see how the audience interacts with your posts. Piar.io shows you the number of clicks, type of device, location broken into countries and cities, device type, browser, and operational system.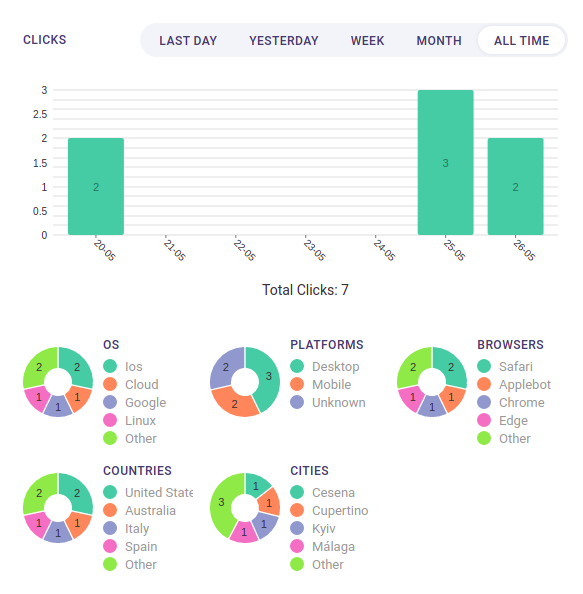 The analytics tool lets you compare link performance across campaigns and channels. You can analyze links posted at specific times by different authors and see which links perform better or recognize efforts based on who did what. The author feature comes in handy, not just for bragging purposes. It also helps you identify who can figure out what works and learn from them.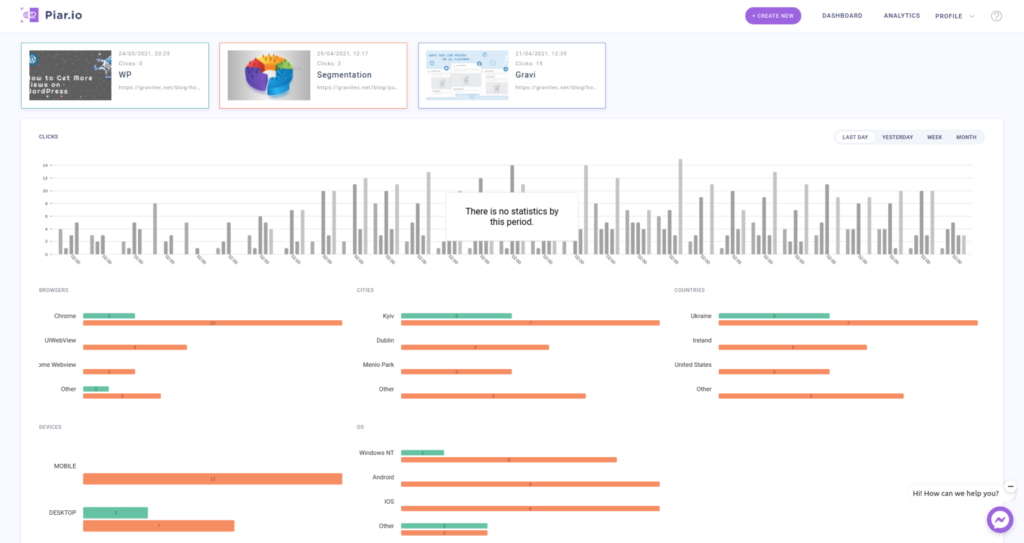 Summary
Link tracking helps you evaluate your traffic sources and direct your efforts to the most beneficial ones for your business. Also, you'll get to know more about your customers, as most trackers log information about when they interact with your website, their location, and device type. You can use link trackers such as Piar.io or track links via Google Analytics tools if you're ready to spend some time learning the ropes.